January 04, 2013 -
Dave Miller
Cotton Bowl preview: Texas A&M vs. Oklahoma
The 2012-13 college football postseason continues Friday night as Texas A&M and Oklahoma collide in the Cotton Bowl.
Let's take a look at some of the most important aspects of this matchup between the Aggies and the Sooners.
Texas A&M (10-2) vs. Oklahoma (10-2) at 8 p.m. ET on FOX
Arlington, Texas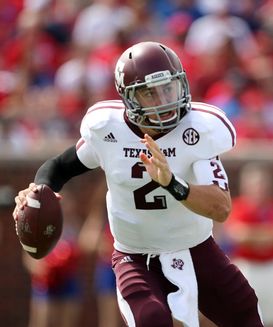 US PRESSWIREJohnny Manziel has recorded an SEC-record 4,600 total yards while accounting for 43 touchdowns.
• QB duel: Both Texas A&M dual-threat Johnny Manziel and Oklahoma veteran Landry Jones lead high-scoring offenses for teams that are looking to finish the season on a six-game winning streak. Manziel, of course, took the SEC by storm in the Aggies' first year in their new league, as the redshirt freshman claimed the Heisman Trophy by recording an SEC-record 4,600 total yards while accounting for 43 touchdowns en route to the Aggies averaging 44.8 points per game. Jones, meanwhile, will be making his 50th career start after accumulating over 16,300 career passing yards and 122 scores and helping the Sooners average 40.2 points per contest in 2012. Unfortunately for Jones, a lot of detractors will point to his two-turnover performance against Kansas State and no-touchdown effort against Notre Dame -- both losses -- and maintain that he hasn't been a clutch performer. But he has to be standing upright to make a difference, so it will be up to OU's offensive line to protect him from star Aggies end Damontre Moore because Jones has weapons to utilize against a suspect A&M secondary. Manziel, on the other hand, struggled in the second halves against Florida and LSU but was able to have his showcase moment against Alabama, which propelled him into the Heisman race.
• Getting defensive: Mike Stoops, as expected, made an instant impact in his return to Norman as OU's defensive coordinator. Now his unit has its biggest test yet as it needs to put the clamps on Johnny Football. Stoops has acknowledged that Manziel cannot be stopped, but he believes he can be contained. The objective for the Sooners is to keep Manziel in the pocket and not allow him to either improvise or take off running. It is obviously easier said than done, and OU doesn't have the material up front as Florida and LSU had when they were able to contain Manziel in A&M's two losses. But if they are able to get him in obvious passing situations, he will be facing a strong defensive backfield, led by all-Big 12 free safety Tony Jefferson and cornerback Aaron Colvin.
• Awfully special: The Sooners' special teams play has been outstanding this season. Jalen Saunders had a punt return touchdown against Oklahoma State that spurred the come-from-behind win, and Penn State transfer Justin Brown had a punt return touchdown on the season as well. OU ranks fourth in the nation in kickoff return average, with Roy Finch recording a score and Brennan Clay offering outstanding play on kickoff returns as well. On Friday night, OU could use some special play on special teams, especially if it finds itself in a shootout with Manziel and Co. But Texas A&M has allowed just 18.7 yards per kickoff return and 5.9 yards per punt return this season without giving up a return score.