November 16, 2011 -
Barry Dorey
Could a Dykes-Arizona reunion be on the horizon?
You have to give a lot of credit to Arizona athletic director Greg Byrne.
The man who hired rising offensive coordinator Dan Mullen away from Florida in 2008 when he was at Mississippi State tried to sell former Gators and current ESPN color commentator Urban Meyer on reviving the Wildcats football program.
Although he reportedly met with Byrne in Miami last week to discuss the opening, Meyer decided that he would remain with the four-letter network for now despite various reports maintaining that he has told people close to him that he wants to return to the sideline.
Meanwhile, you can't blame Byrne for reaching for the stars.
So it's back to the drawing board for the Arizona AD, who pulled the plug in October on the Mike Stoops era in Tucson after the Wildcats began the season with a 1-5 mark. If any Wildcats fan is concerned about whether the program will have enough money to land a big name after buying out the final two years of Stoops' contract, Byrne said in October that would not be a problem.
"We need to be competitive. That is critical," Byrne said when asked about how much Arizona can pay a new head coach. "It is the marketplace, if you like it or not. You have to be competitive."
So where do the Wildcats go from here?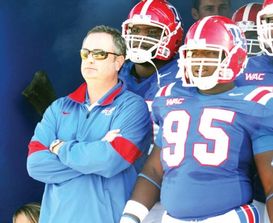 Sonny Dykes led Louisiana Tech to a road win over Ole Miss last Saturday.
When Stoops was let go, I discussed some of the names that could possibly be on Byrne's radar as he looks for a replacement for interim head coach Tim Kish. Former Oregon coach Mike Bellotti, former Texas Tech coach Mike Leach and former Michigan coach Rich Rodriguez were three of the names that I thought Byrne should target. But Houston's Kevin Sumlin is also ready for a head-coaching gig in a BCS conference after leading the Cougars to a 10-0 start and a possible BCS bowl berth. He also oversees an unstoppable style of offense. Southern Mississippi's Larry Fedora is also ready for a major-college job after his strong work both as an assistant and a head coach.
But if Byrne is unable to land one of those strong candidates, a familiar name to Arizona fans should get a phone call: Sonny Dykes.
Dykes is currently the head coach at Louisiana Tech, where he's led the Bulldogs to five straight victories, including a 27-7 win at Ole Miss last week. At 6-4, Louisiana Tech has a chance to claim the WAC title with a win over Nevada this week. Dykes knows the Arizona program well, having served as offensive coordinator from 2007-09 under Stoops. He introduced the program to the spread offense, helped develop former signal-caller Willie Tuitama and brought star quarterback Nick Foles to Tucson. Most importantly, as Greg Hansen of the Arizona Daily Star wisely points out, Dykes doesn't cause a scene on the sideline with his wild animations as Stoops so often did — something that certainly didn't help Stoops' status while he struggled to consistently win.
Dykes is well-versed in the recruiting battlegrounds of Texas and California because of his time spent in Tucson, and he's familiar with the other Pac-12 programs and their recruiting tendencies. The 42-year-old is youthful and ready for a BCS-level job, and he'd bring a fresh energy to the program despite having a prior tenure at the school.
Certainly, as we saw with his flirtation with Meyer, Byrne is going after the big names for this opening. And who can blame him?
But if he can't land a big fish, Byrne could do a lot worse than Sonny Dykes as the new face of Arizona football.
Email dave.miller@nationalfootballpost.com or follow me on Twitter at Miller_Dave