November 11, 2011 -
Dave Miller
Could Heaps leave BYU?
The 2010 season was quite a whirlwind for BYU.
After an opening win against Washington, the Cougars dropped four straight to put themselves in a 1-4 hole. But head coach Bronco Mendenhall righted the ship, and the team won five of its next six before falling by one point in the regular-season finale at Utah.
The highlight of the season came in the team's bowl game, when the offense finally clicked and exploded for 52 points against UTEP in a New Mexico Bowl blowout. And one of the central figures in the offensive revival was a true freshman quarterback.
Jake Heaps threw four touchdowns and passed for 264 yards in the win over the Miners — and he did it all with a broken rib suffered in the loss to Utah.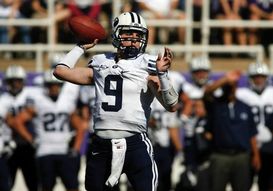 ICONCould Jake Heaps decide to leave BYU?
So there were obviously high expectation for Heaps and the Cougars in their first season as an independent.
But Heaps has struggled through a sophomore slump, his play littered with inconsistency. Hence, junior Riley Nelson was summoned off of the bench by Mendenhall, and he hasn't relinquished the job since.
Because of Nelson's re-emergence after losing his job to Heaps last season, Mendenhall has brought up the possibility of Heaps redshirting next season. That seems very unlikely, so could Heaps possibly transfer?
"I feel throughout this whole thing that this is an experience that I am supposed to be going through and that I am supposed to carry out through the rest of my career," Heaps told Jay Drew of the Salt Lake Tribune. "Hopefully it will make me a better player. It is what I hope to do and plan to do. I am excited to have this opportunity to learn from and grow and hopefully make the best situation out of it."
Gordon Monson of the Salt Lake Tribune knows one team that likely wouldn't mind acquiring Heaps' services if he decided to leave BYU.
"Heaps would flourish in a place that's convenient and nearby, under the supervision of the master quarterback Jedi [Norm] Chow. With Jordan Wynn suffering the injuries he has, with the Ute quarterback situation what it is, with recruiting relief yet a ways off, the timing is nearly perfect," Monson wrote. "Yeah, Heaps would still have to sit out a year, but the baggage would be gone. And his hard-found maturity would pay off for him and his new team in a big way."
This is certainly all speculation at this point, but Utah would make a lot of sense. However, as we saw last season, Heaps is just one injury or string of bad performances by Riley away from regaining the starting gig.
Email dave.miller@nationalfootballpost.com or follow me on Twitter at Miller_Dave