February 22, 2011 -
Dave Miller
Could NFL labor issue prompt Locker to play baseball?
Exactly where Jake Locker ultimately gets picked in April's NFL draft has been one of the most hotly debated topics throughout the 2010 college football season and throughout the early part of draft season.
However, often lost in the discussion is the fact that Locker has career options beyond the NFL. More specifically, he can choose to pursue a career in professional baseball.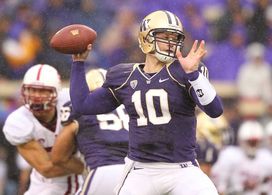 QB Jake Locker has career options beyond the NFL.
The former Washington Huskies quarterback was drafted by the Los Angeles Angels in the 10th round of the 2009 Major League Baseball amateur draft, and Locker received a $250,000 signing bonus when he agreed to terms with the club. The Angels hold his rights until August 2015.
So it comes as no surprise that, according to Mark Saxon of ESPNLosAngeles.com, the front office of the Angels is paying attention to the NFL's labor issues in case the signal-caller decides to seriously think about pursuing a career on the diamond.
Locker, who was a standout pitcher and outfielder at Ferndale High School in Washington and played in a college baseball summer league in 2008, could start to play baseball within the Angels organization if there is a work stoppage in football or in the rare case that he is unable to agree to terms with the NFL team that drafts him.
The Angels like his strong arm, the organization has valued speed in the Mike Scioscia era and Locker is one of the more athletically gifted quarterbacks to come through the college ranks in recent memory. Angels general manager Tony Reagins said Locker has periodically worked out at the team's minor league facility in Arizona, which is part of his contractual obligation.
"I think there are some factors out there that are going to make his decisions more difficult," Reagins said. "The labor situation is one, where he's selected is one of them. Our eyes are wide open in this regard and we'll see how it plays out. You always have a chance."
Locker was viewed as a potential No. 1 overall pick in the draft following his junior year but struggled during an inconsistent senior season. Currently, the signal-caller is ranked by the NFP as the No. 3 QB in the draft.
Email dave.miller@nationalfootballpost.com or follow me on Twitter at Miller_Dave
Want to work in the NFL? Click here to sign up for the NFP's "Chalk Talk at the Combine" Seminar February 25 in Indianapolis.