June 21, 2011 -
Dave Miller
Could Oregon be in hot water after all?
On Monday, when Oregon released documents related to the football program's use of recruiting services in response to an open records request, it didn't appear that there was much new information to report. Of course, the school's relationship with a Houston-based recruiting service owned by Willie Lyles in particular led the NCAA to investigate whether or not the Ducks committed any wrongdoing.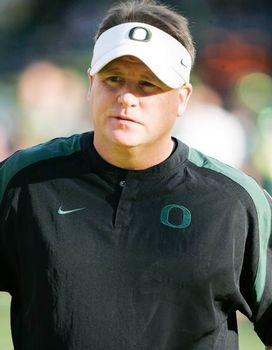 ICONChip Kelly and the Ducks will have to do some explaining very soon.
However, as Aaron Fentress of The Oregonian reports, the package Oregon bought from Lyles' Complete Scouting Services for $25,000 in February 2010 -- titled "2010 National High School Evaluation Booklet" with headers on each page stating "Player Profiles 2011" -- was made up of virtually all 2009 high school graduates. In fact, the 143-page booklet contained zero recruits who were part of the 2011 recruiting class. Further, Fentress details that while the service was labeled as a "national package," most of the players were from Texas, including 40 from Houston.
The obvious question is why a football program would pay $25,000 for an essentially expired package featuring prospects from an old recruiting class?
Of course, the major issue at play here is the allegation that Lyles influenced and funneled players into Eugene. Because of these details in The Oregonian, assumptions will be made that Lyles indeed happened to steer recruits, including Texas running back Lache Seastrunk, to the school in exchange for cash in February 2010. Lyles had served as a mentor to Seastrunk and is also connected to Heisman Trophy contender and current Oregon star running back LaMichael James.
There are definitely questions that Ducks head coach Chip Kelly and members of the Oregon administration are going to have to answer regarding specifics on these released documents, including when the school received the booklet and for what periods it was supposed to cover.
UPDATE: On Tuesday morning, Bob Clark of The Register-Guard reports that Kelly exchanged text messages with Lyles on a number of occasions while he was the offensive coordinator of the Ducks. When Kelly was named head coach in March 2009, the volume of texts greatly decreased. In response to media requests, Oregon released records showing that its coaches made or accepted 70 calls in a four-month period that ended in March 2010, when the program paid $25,000 to Lyles for outdated recruiting information a few weeks after Seastrunk signed with the Ducks.
With this report, the number of questions to be directed at Kelly just increased tenfold.
Email dave.miller@nationalfootballpost.com or follow me on Twitter at Miller_Dave