November 17, 2011 -
Barry Dorey
Could Sarkisian be a fit at UCLA if Neuheisel gets canned?
Unless UCLA could miraculously win the Pac-12 South — after being in the driver's seat heading into its showdown at Utah last week before relinquishing its grip on the divsion — Rick Neuheisel could be out of a job.
Entering the 2011 season with a 15-22 mark in three seasons as the Bruins head coach, Neuheisel needed to show athletic director Dan Guerrero that the program was headed in the right direction. Norm Chow was ousted as offensive coordinator, with former San Francisco 49ers OC Mike Johnson brought in to run the show. Neuheisel himself took over as quarterbacks coach, with unsteady QB play being the biggest factor in the ineptness of the offense. Receivers coach Reggie Moore and defensive coordinator Chuck Bullough were also relieved of their duties.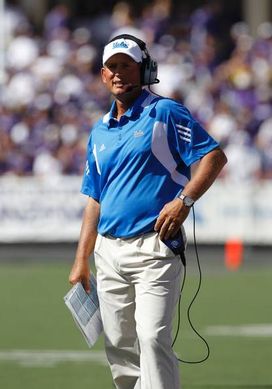 ICONRick Neuheisel has had an inconsistent four years as head coach at UCLA.
In essence, there was no one else to blame this fall if the Bruins didn't get steady play in the fourth season of the Neuheisel regime.
But with a winnable South division staring him in the face, the former Bruins quarterback hasn't gotten the job done.
The offense still struggles to consistently move the football, while the defense fails to get consistent stops. Each week is an adventure for UCLA fans — an embarassing loss to Arizona followed up by an emotional win over Arizona State only to throw away all momentum last week with a lackluster effort against the Utes.
With attendance at the Rose Bowl dwindling, is new energy needed in Westwood?
Mike Waldner of the (Torrance, Calif.) Daily Breeze believes that the underachieving and inconsistencies under Neuheisel are grounds for a new hire, and he believes that Washington head coach Steve Sarkisian would make a great successor if Boise State's Chris Petersen is unavailable.
Waldner cites Sarkisian's 2-1 record against USC, a team that Neuheisel has yet to beat since returning to Westwood, and the fact that Washington is a revived program that was in worse shape than UCLA was when Neuheisel came aboard. He knows the fertile recruiting grounds in the state of California, and he and his wife know the area well.
Sarkisian played high school football at West Torrance High, and his wife is a Torrance High graduate as well. He was an El Camino College quarterback and an assistant coach there after his playing days, and he could yearn for a return home.
I don't think Sarkisian is leaving Seattle any time soon, but Guerrero certainly could do a lot worse than giving him a phone call if he indeed makes a move with Neuheisel at the end of the year.
UCLA chancellor Gene Block may not want to buy out Neuheisel's final year of his contract for $1.25 million, especially because Chow is still being paid despite coaching at Utah. And there's still a chance that UCLA shocks everyone and finally beats the Trojans on Neuheisel's watch. After all, the Bruins have been so unpredictable the last four years that just about anything is possible at this point.
But Neuheisel certainly has had the time to bring consistency to this program, and he just hasn't delivered.
Email dave.miller@nationalfootballpost.com or follow me on Twitter at Miller_Dave