September 14, 2011 -
Barry Dorey
Could Texas be headed to the ACC?
On Wednesday, Tom D'Angelo of the Palm Beach Post reported that Florida State has started to take steps in preparation for the expected conference realignment which will likely take place if Oklahoma and Oklahoma State bolt to the Pac-12 following Texas A&M's move to the SEC.
And the University of Texas would likely play a major role in the changing landscape of college football.
While Florida State, along with other schools, has been linked at various stages of conference realignment talk to the SEC, it's possible that an ACC superconference could be formed, which would include the Longhorns.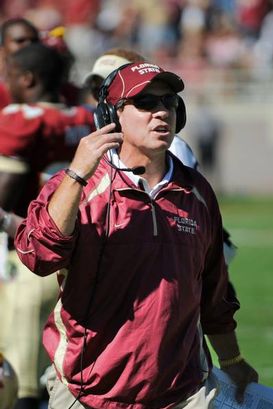 ICONWill Jimbo Fisher and the 'Noles be joined by Texas in the ACC?
Andy Haggard, chairman of FSU's board of trustees, said Tuesday that the Seminoles have formed a committee to explore the school's options and prepare for any and all scenarios, including changing leagues or remaining in an expanded ACC. Haggard and his staff hope to have the committee in place by next week.
"If you are going to four conferences of 16 teams we certainly want to be ready," Haggard said. "If the ACC is included in that we want to be sure we are included and have a say so in regard to the teams that are coming into our conference."
Haggard maintained that the 'Noles have not been approached by the SEC and reiterated that FSU "is very happy" in the ACC. But this situation is very fluid for almost all schools in every conference.
If Oklahoma and Oklahoma State are invited to the Pac-12 by commissioner Larry Scott, it's quite possible that Texas would not move westward with its Big 12 rivals.
According to the Austin American-Statesman, the ACC has had preliminary talks with the Longhorns.
Of course, getting Texas would be a coup not only for the football league but the basketball side of things as well. Despite the success of Virginia Tech and Florida State on the football field, Texas would instantly reinvigorate ACC football. In addition, it would give the basketball league another national contender just below the level of Duke and North Carolina.
While the ACC talk is certainly speculation at this time, it should be noted that the University of Texas has always looked eastward in its views on politics, sports and academics. With a rich history of government leaders in Washington, D.C., the school just isn't a cultural fit in a league based in the Western U.S. In addition, it's unlikely that the UT administration would be happy relinquishing some power if it moved to the Pac-12. And that's exactly what the Longhorns would have to do if it entered a potential "Pac-16."
In the ACC, Texas would almost immediately be king, especially on the football field. In the Pac-12, it would be a little brother -- no matter its past, present or future success.
Email dave.miller@nationalfootballpost.com or follow me on Twitter at Miller_Dave