November 18, 2010 -
Dave Miller
Cozy confines at Wrigley for Northwestern
We've heard a lot about — and seen pictures of — one of the end zones for Saturday's Northwestern-Illinois game being so close to the right field wall at Wrigley Field.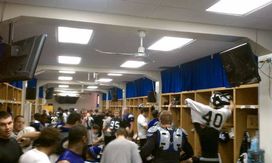 The NU locker room at Wrigley Field.
But what about the intimate locker rooms at the Friendly Confines? The same locker rooms that many former Chicago Cubs players, managers and members of the media have cited as one of the difficulties of playing home games at the stadium, especially as the weather gets hotter as the summer progresses. The idea that being in such close quarters during a losing skid breeds shorter tempers and built-up frustration.
How will the locker rooms affect NU and Illinois players Saturday?
Well, Pat Fitzgerald and his Wildcats are practicing at Wrigley today, and the NU head coach just tweeted a picture this morning of the preparation area.
Keep in mind that the Chicago Bears dealt with this when they played home games at Wrigley.
What do you think? Too close for comfort?
Even if it's a little cramped, it's likely not enough to put a damper on what should be a great Saturday afternoon for both schools and everyone involved with the two Big Ten programs.
Email dave.miller@nationalfootballpost.com or follow me on Twitter at Miller_Dave