February 18, 2011 -
Dave Miller
Cuban forms business for college football playoff
Mark Cuban's desire for creating a true national championship game for major college football is well known. For many fans, he's just preaching to the choir.
Now, the owner of the NBA's Dallas Mavericks is laying the groundwork for what he hopes is the change that will make many fans ecstatic.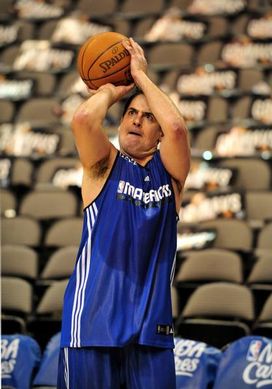 ICONMavs owner Mark Cuban is never short on ideas.
The billionaire entrepreneur has formed a limited liability company called Radical Football "to impact college football so that the last two teams playing are the best two teams," Cuban said in an e-mail.
Radical Football was registered in Texas on Dec. 28, but the company has no website yet. Cuban declined to say how big the staff is, but he stated that the agenda for the company in the next year is to "advance towards our goal," he said.
Forty-year-old Brett Morris, the only known employee of the company, was in San Diego last weekend representing Radical Football as a judge in a competition among college business students who pitched their plans to change the postseason. The winning team will get a chance to make a presentation of its 16-team playoff format to Cuban later this year.
In December, Cuban stated that he was interested in funding the creation of a playoff system in college football. He said then that he planned to contact school presidents and other power brokers to advance the idea forward. He also played with the thought of having a midseason playoff lead to a final championship game.
The powerbrokers who oversee the Bowl Championship Series, college presidents and chancellors, have resisted a playoff because they said it could affect the regular season, history and tradition, revenues of the bowl system, as well as the academic calendar.
In an effort to change the current system, Cuban has suggested persuading college presidents by using financial incentives. For instance, in exchange for favoring a playoff, they'd get funding.
You have to credit Cuban for his ability to create a stir with his radical ideas. Although, if you ask many college football fans, a playoff isn't so radical.
Email dave.miller@nationalfootballpost.com or follow me on Twitter at Miller_Dave
Want to work in the NFL? Click here to sign up for the NFP's "Chalk Talk at the Combine" Seminar February 25 in Indianapolis.