October 26, 2010 -
Dave Miller
Cutler, Cavallari show their Halloween spirit
There's no question that the woes on offense for the Chicago Bears extend beyond quarterback Jay Cutler. A signal caller is never helped by a poor offensive line, a non-existent running game and receivers who often break off of their routes or just run the wrong ones.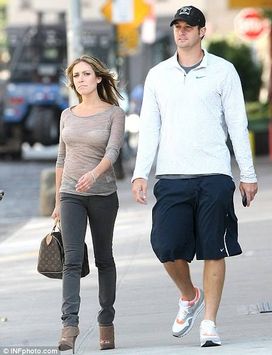 Kristin Cavallari and Jay Cutler enjoying a day in Chicago.
But at some point, you have to come to grips with the fact that Cutler is what he is — a player who possesses all the physical tools for the position but just not enough of the mental make-up to be a consistent winner.
So in case you were wondering how Cutler was coping with the Bears' embarrassing loss to the Redskins Sunday — a game in which he threw four interceptions to cornerback DeAngelo Hall — he spent his Monday evening carving pumpkins with girlfriend Kristin Cavallari.
According to her Twitter page, K-Cav and J-Cut created these amazing Jack-o-lanterns, perhaps over a bottle of wine and sushi. Or perhaps over game film.
A few more notable recent tweets from Cavallari:
8:41 PM Oct 23: A guy just came up to me at the airport asking if I wanted acid. Ohh Chicago
Now, I'm a lifelong Chicagoan and that has definitely not happened to me at an airport. Or anywhere for that matter.
1:36 PM Oct 23: Off to chicago ? its starting to feel more like home than LA...
Seems like she is really enjoying her time in the Windy City. Could a more long-term housing arrangement be in the works for K-Cav? Stay with the Daily Jolt as we continue to monitor this budding romance.
Follow the Daily Jolt on Twitter: Daily_Jolt
The Daily Jolt is a section of the National Football Post that serves as a one-stop shop for all things football, sports, pop culture and everyday life.
The section's editor, Dave Miller, also writes the Against the Grain college football column for the NFP. When he isn't putting coaches on the hot seat, he can often be found daydreaming of being the future Mr. Katy Perry. You can follow him on Twitter at Miller_Dave.