September 16, 2013 -
Dave Miller
Daniels breaks out for Notre Dame
For the second season in a row, Tommy Rees was a big part of a Notre Dame win over Purdue.
But it was wide receiver DaVaris Daniels who perhaps had the most impact in this year's tight clash.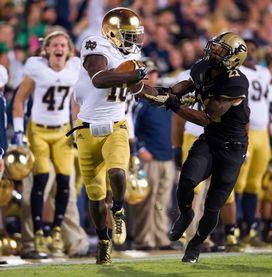 US PRESSWIREDaVaris Daniels already has 17 grabs for 299 yards and four scores in 2013.
The son of former NFL defensive lineman Phillip Daniels made touchdown catches on two successive Notre Dame plays in the fourth quarter to lead the Fighting Irish past Purdue 31-24 on Saturday night.
Rees, who went 20 of 33 passing for 309 yards and two scores, first connected with Daniels when the tall junior receiver outleaped Purdue defender Antoine Lewis for a 9-yard score to tie the game at 17 with less than 15 minutes left. On the ensuing ND possession, Rees hit Daniels deep for an 82-yard catch-and-run to make it 24-17 (it was the ninth-longest pass completion in school history). On the way to the end zone, Daniels threw a stiff arm at a Purdue cornerback as he stayed in bounds for the long score.
Bennett Jackson then picked off Purdue's Rob Henry for a 34-yard interception return to complete the Irish victory.
The emergence of Daniels, who finished with eight catches for 167 yards and the two scores, has been a big boost for an ND offense that was expected to be more vertical even if Everett Golson was under center. With Rees, though, it looks as if Daniels could emerge as the No. 1 option through the air. The performance against the Boilermakers was the best game of Daniels' career, as he proved that he not only can be a weapon deep down the field but that he will go over the middle as well.
Daniels had 31 catches for 490 yards and 0 touchdowns in 2012. This season he already has 17 grabs for 299 yards and four scores. And those numbers will climb with Rees showing that he can effectively push the ball down the field for an Irish offense that will need to be more efficient as the schedule gets tougher.
Dave Miller, the college football editor and writer for the National Football Post, is on Twitter @Miller_Dave.