August 15, 2011 -
Barry Dorey
Decision time for Nebraska's Starling
The day has arrived for Bubba Starling to make a decision.
Continue his football-playing career for Bo Pelini and Nebraska or sign for big cash and pursue a pro baseball career with the Kansas City Royals?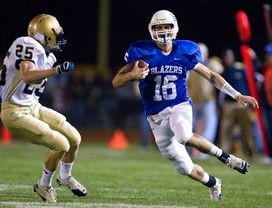 Will Bubba Starling be taking snaps in Lincoln this fall after all?
The 6-5, 195-pounder will have to choose between being a two-sport star in Lincoln or giving up his football dream to pursue a career on the baseball diamond. The dual-threat signal-caller from Gardner, Kan., is facing an MLB deadline of Monday at midnight ET for teams to sign a player who is drafted this summer.
If the deadline passes without a commitment to the Royals, Starling would have to wait three years to begin a pro baseball career.
Selected by his hometown Kansas City Royals in Major League Baseball's Amateur Draft this past June, Starling participated in much of Nebraska's summer workouts before returning to Kansas last week to continue to weigh his options. Pelini left him off the 105-man Cornhuskers roster until he made a decision. Thus, he was not allowed to participate in the first week of fall camp. And because he is represented by tough negotiator Scott Boras, this decision is coming down to the wire. It is believed that Boras is looking for a signing bonus near $10 million while the Royals reportedly have offered $7.5.
If Starling opts not to sign a baseball contract, he is expected to put his pro baseball career on hold and focus on football and baseball in Lincoln. He could also sign a baseball contract and play football-only at Nebraska, although that's unlikely. The other scenario is to play pro baseball and come back to play football in a few years if he decides the diamond isn't for him.
Besides being a top baseball prospect, Starling is an intriguing football talent. During his senior season, Starling rushed for 2,417 yards — not shocking considering his 4.4 time in the 40-yard dash — and 31 touchdowns. He added 812 yards and eight scores through the air and finished his career with a 33-4 mark as a starting quarterback at the high school level.
Starling has a good enough arm to be a true passing threat, and he has the moxie necessary to be a real leader on the gridiron. But will we ever see him on the field at Memorial Stadium?
Starling grew up a Royals fan and stated before the draft it would be hard to not sign with them if the team drafted him.
Meanwhile, the clock is ticking…
Email dave.miller@nationalfootballpost.com or follow me on Twitter at Miller_Dave