August 10, 2011 -
Barry Dorey
Defensive revival in the cards under Mattison at Michigan
As exciting as Michigan football was to watch last season with Denard Robinson making plays up and down the field every Saturday, it was equally tough seeing the team's defense give up so many big chunks of yards week after week.
The team's 7-6 mark underscored the fact that the Wolverines were just good enough to pull off a win, but just bad enough to fall short.
With nine starters returning to an offense that averaged 488.7 yards and 32.8 points per game, Michigan will continue to put up points even if the offense looks schematically different with more tight ends and multiple-back sets. At the end of the day, it will be the defense — and overall team toughness — that decides how far Michigan can go in Brady Hoke's first year in Ann Arbor.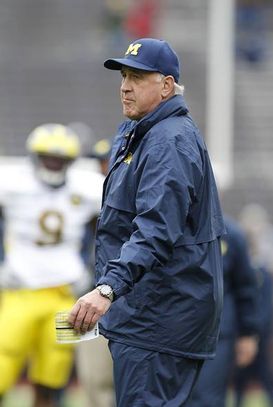 Greg Mattison is rebuilding the Michigan defense after its drastic decline in recent years.
Faced with the task of rebuilding the defense is Greg Mattison, the former Baltimore Ravens coordinator who is challenged with making over a unit that endured three of the worst years in program history under Rich Rodriguez and finished 110th in total defense in 2010. Mattison, who was a fellow assistant with Hoke at Western Michigan and in Ann Arbor, admitted that he didn't need to watch a whole lot of the film from last year to know that a fresh start was needed — he just watched contests against Wisconsin, Michigan State and Notre Dame. Anyone who watched just a few clips of Michigan football recently knows how porous the units fielded by former DC Greg Robinson were the last few years.
When the Wolverines hired Mattison, they gave their new defensive mastermind a base salary of $750,000 — more than double any other Michigan assistant. So what can fans expect in return?
Certainly the defense will be physical and aggressive, with Mattison prioritizing stopping the run. However, as every fan of the Maize and Blue is well aware of, allowing big plays — especially through the air — has been the Achilles heel of the unit in its recent decline.
"I know what I want to be," Mattison told the Detroit Free Press. "I want to be a team nobody can run the football on...And I want a defense that is aggressive, that makes that quarterback nervous when it's a passing situation. The next thing we find out is do we have the players to do it or are they performing to do it?"
Central to the defense's success is eliminating the big play, which Michigan allowed all last season. The Wolverines gave up 57 plays of 20 yards or more in 2010. Expect plenty of unique blitzing from Mattison, who also had coaching stints at Florida, Notre Dame and Texas A&M.
"Our biggest purpose with this defense right now is do not give up the really big plays," he said. "They're going to rush for some yardage. Every team we play against is going to get a run of 4 or 5 or 6 yards. We know that, but we can't give up the 25, 30 and the home runs."
In terms of personnel, it would help if veteran cornerbacks Troy Woolfolk and J.T. Floyd lock down starting jobs to give the secondary experience after coming back from injuries. But starting jobs aren't guaranteed for anyone. And the lack of depth in the defensive backfield is a concern.
Up front, the team received strong springs from Craig Roh, Mike Martin and Ryan Van Bergen. Can that level of play carry into the fall, and can young players such as defensive ends Jibreel Black and Brennen Beyer as well as linebacker Frank Clark contribute to the cause?
No matter the personnel, Mattison will make a difference in year one. But the real jump will occur in 2012 and beyond, when the team's stellar recruiting class filled with quality defenders arrives in Ann Arbor.
But for now, optimism is the name of the game.
"I know in my heart what's about to happen here," Mattison said. "We're going to have a Michigan football program that Bo [Schembechler], coach [Gary] Moeller and coach [Lloyd] Carr are going to be proud of again. A program that has been built for many, many years the way we are trying to do it. I believe in my heart that's going to happen."
Email dave.miller@nationalfootballpost.com or follow me on Twitter at Miller_Dave