December 13, 2010 -
Dave Miller
Despite risks, Florida's hire of Muschamp feels right
Will Muschamp may be the perfect hire for the Florida Gators after all.
While many fans and alumni yearned for Oklahoma's Bob Stoops to return to Gainesville, it was a longtime Florida fan who eventually was given the car keys to Florida's football program.
Despite being the head-coach-in-waiting at Texas — ready to assume the lead job when Mack Brown decided to walk away from the college football world — Muschamp chose to leave one plum job for another Saturday night when he accepted the gig at Florida recently vacated by Urban Meyer, who resigned last Wednesday following a 7-5 season.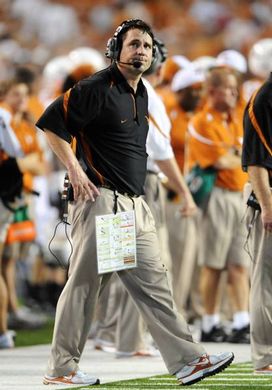 ICONWill Muschamp left a great situation at Texas to become Florida's new head coach.
The 39-year-old former Longhorns defensive coordinator, who spent much of his childhood watching Florida and SEC football in Gainesville, will be a head coach for the first time in his life.
"This is a dream come true to be the head coach of the Florida Gators," Muschamp said in a statement. "I grew up watching the Gators and whatever other SEC team was on television. I have great memories watching SEC football with my father on Saturdays and playing football in the backyard with my two brothers right here in Gainesville."
Risky hire? No question about it, and athletic director Jeremy Foley knows it. After all, Foley was the one who rolled the dice on a head coach when he hired former Gators defensive coordinator Ron Zook in 2002. Three subpar seasons later, Zook was fired midway through the 2004 campaign.
But this hire feels different.
Muschamp knows all about SEC football — and not just from watching so much growing up. He played safety at Georgia from 1991 to 1994 before working as defensive coordinator at LSU and Auburn. Gator Nation should be comfortable knowing that Foley hired someone who worked closely with Nick Saban while the two were in Baton Rouge and for one season in the NFL. That's valuable experience that only the best assistants are able to enjoy.
In Texas' national runner-up season of 2009, the defense under Muschamp led the nation in rushing (73.1 yards per game), third-down defense (26.5 percent), turnovers (37) and interceptions (25).
In his first year at Auburn in 2006, the defense finished seventh nationally in scoring. The next season, the Tigers ranked seventh nationally in pass efficiency defense and sixth nationally in total defense, pass defense and scoring defense.
During LSU's 2003 national championship season, Muschamp's unit led the nation in scoring (11.0 points per game) and total defense (252.0 yards per game) and was second in pass efficiency and third in rush defense (67.0 yards per game).
Even when he was with Saban's Miami Dolphins in 2005, his defense ranked 15th in the NFL.
Simply put, he knows how to design stingy defenses and adapt to his personnel. And at Florida, he will always have top-notch talent. Recruits will want to play for him, just as they have wanted to play in Gainesville since the rise of the football program.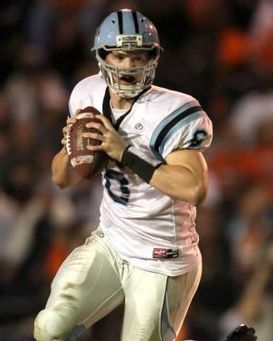 It didn't take long for Muschamp to talk to UF commit Jeff Driskel.
He didn't waste any time the day he was hired, talking immediately to quarterback Jeff Driskel, who is rated the No. 1 quarterback prospect by Rivals.com and No. 2 by Scout.com. The Gatorade Player of the Year in Florida as a senior this season, Driskel's mother said he remains intent on joining the Gators.
Of course, in any move involving a coaching change, there will be obstacles. And one of the biggest at UF is the state of the offense — a unit that looked nothing like the machine that was being run by Tim Tebow early in his career under coordinator Dan Mullen.
Does Muschamp continue to run the spread offense with the current personnel and incoming recruits, or will he let his new coordinator — possibly Major Applewhite — put his stamp on the unit? And how much influence will he have on defensive game-planning? Will he go after Alabama's Kirby Smart, who is a close friend and could add even more intrigue to the rivalry with the Crimson Tide?
Foley said Muschamp, who reportedly will make more than $2.5 million per season, was the only person he contacted for the opening. Not Stoops or Boise State's Chris Petersen. Not Stanford's Jim Harbaugh or former NFL head coach Jon Gruden. Just a rising star among the ranks of coordinators.
Up until Saturday evening, Muschamp had turned down a lot of prime head-coaching opportunities. But when you have a chance to go home again, it's always a wise choice to return to your comfort zone.
And there's not many atmospheres quite like The Swamp when things are going just right in Gainesville on Saturday afternoons.
Email dave.miller@nationalfootballpost.com or follow me on Twitter at Miller_Dave