May 14, 2012 -
Dave Miller
Did FSU's president kill any chance of a move to the Big 12?
Shortly after I posted my piece on the Florida State-Big 12 talk that dominated the headlines this weekend, FSU president Dr. Eric Barron wrote a memo that featured reasons to support a move to the Big 12 and major points that argue against leaving the ACC.
The biggest bombshell from Barron, who maintains that the school is "committed" to the ACC, is that the school's "faculty are adamantly opposed to joining a league that is academically weaker."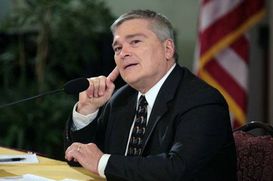 ICONFSU president Dr. Eric Barron released a memo detailing the pros and cons of a potential switch of conferences.
Bringing in academics was a major grenade lobbed at the Big 12 because although big-time college sports is governed by money, the games are still played under the facade of higher learning. Whatever Barron's reasoning for playing the "academics" card, how would it look if the Seminoles bolted to a "lesser" league academically following those comments.
Another reason Barron cited in the memo to not leave the league include the ACC being "an equal share conference." However, equal sharing of conference-generated revenue (including TV) went into effect in the Big 12 this past season, which Barron apparently didn't realize. However, the league is still Texas-centric, which could be a turn-off. Just ask Nebraska.
Barron also noted the negative impact of losing the rivalry with the University of Miami as well as the high buyout fee of leaving the ACC, which would cost between $20 and $25 million.
"We can't afford to have conference affiliation governed by emotion," Barron writes.
If only other university presidents had the same mindset over the last few years during the conference realignment arms race.
However, Barron did maintain that reasons for moving could include the ACC being "too North Carolina centric" and the impending Big 12 contract paying out about $2.9 million more per year than the ACC contract.
Certainly, it's not often that we see a school president throwing the proverbial grenade at another conference. It's also not often that in a span of a few days we see a school's board of trustees chairman insult his school's conference and its commissioner followed up by the university's president then insulting a potential new league.
Without question, there are differing opinions internally regarding FSU's current alignment in the ACC. It will be interesting to see how this continues to play out or if Barron's words were enough to shut the door on any possible move to the Big 12.
Email dave.miller@nationalfootballpost.com or follow me on Twitter at Miller_Dave