September 04, 2011 -
Barry Dorey
Did Kelly make the right move in benching Crist?
Notre Dame wasn't going to beat South Florida on Saturday even if Joe Montana donned his green No. 3 jersey and ran onto the field at Notre Dame Stadium in South Bend.
That's just the reality for a Fighting Irish squad that never recovered from Kayvon Webster's 96-yard fumble return for a touchdown just four minutes into the game to give South Florida an early 7-0 lead.
The 16th-ranked Irish were primed to strike first after a promising opening drive, but Jonas Gray's fumble changed everything. Instead, USF stole all the momentum.
For the Irish, it was a sign of things to come in the 23-20 loss.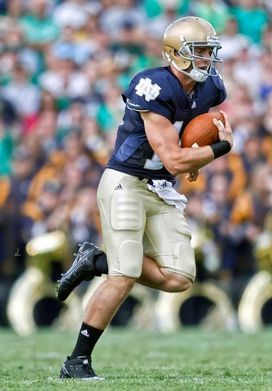 ICONDayne Crist was benched in Saturday's loss to South Florida.
At the end of the day, Brian Kelly's squad would turn the ball over five times against the speedy Bulls defense.
ND fell behind 16-0 after a disastrous first half which included two fumbles, a holding penalty that negated a nice Cierre Wood touchdown run and an awful interception thrown by Dayne Crist in the end zone.
That turnover, for all intents and purposes, may have closed the book on Crist's career at ND.
Such a quick benching at least makes it feel that way after Crist was declared the starter late in fall camp after a closely contested battle with Tommy Rees. Crist finished the day 7-of-15 passing for 85 yards with that end-zone interception.
While Crist's accuracy needed to improve from last season for this offense to be effective, did Kelly really give him a fair chance Saturday afternoon?
There's no question that a few of his throws were behind receivers and the interception was an incredibly bad decision. And Rees, who led the Irish to four straight victories as the starter at the end of last season, led the offense to a fast start to begin the second half. He finished the day 24-of-34 passing for 296 yards with two touchdowns to Michael Floyd as the Irish comeback effort fell short.
Perhaps the greatest testament to Rees, who threw two interceptions on the day, and the biggest indictment on Crist was the fact that the senior Crist couldn't really rally the team when things were going bad early in the game. And, fair or not, as the leader of a football team that's one of the things that you must be able to do.
On the contrary, despite the loss, Rees was able to get the Irish moving and at least give them a chance to compete.
Certainly, Crist didn't get much help from his teammates on Saturday. The question now is whether he will get the chance to lead his team again as the Irish regroup and prepare for a tough road test next week against Michigan.
Email dave.miller@nationalfootballpost.com or follow me on Twitter at Miller_Dave