November 28, 2010 -
Dave Miller
Did Shannon get a fair chance at Miami?
After four seasons as head coach, Randy Shannon was dismissed from Miami (FL). He finished with a 28-22 record at the school, including a 7-5 mark this season, and a 0-2 record in bowl games.
Shannon had signed a four-year contract extension in May.
Offensive line coach Jeff Stoutland will be the interim head coach, while all of the assistant coaches will stay with the team through the bowl game.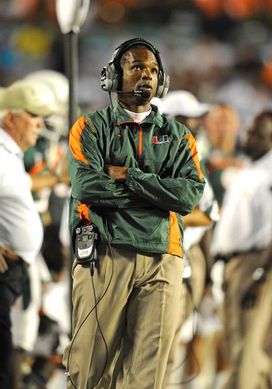 ICONRandy Shannon is out after four seasons at Miami.
Shannon was able to bring in better talent and improve the recruiting efforts of the program, but he was unable to make Miami a cornerstone of the ACC during his tenure. With the Hurricanes remaining behind Florida and ACC rival Florida State in terms of visibility, athletic director Kirby Hocutt clearly felt a change was needed to pump new life into the program.
And even if it wasn't just about Saturday's home game against South Florida, losing to the Bulls certainly didn't help Shannon's cause.
"Better days are ahead. Great days are ahead for this program," Hocutt said
It will now be up to the new leader of the 'Canes to keep as many members as possible of the top-25 recruiting class that was being constructed by Shannon in Coral Gables. Even more important, the class currently sits at just seven commits, so there's a lot of work to be done.
Did Shannon get a raw deal?
Coaching the Hurricanes is a more difficult job than many realize, with a fanbase known to be fickle. It is also a pro sports town and always will be, especially now with the Big Three with the NBA's Heat.
Miami is a small school that typically only gets big crowds for rivalry games. Otherwise, the 'Canes are playing in a half-filled stadium. In addition, the university lacks great football facilities.
But Shannon kept his players out of trouble. And he always carried himself with class and dignity. However, we all know that winning trumps everything. And Shannon didn't win enough at Miami.
Perhaps the 'Canes will look to fill this vacancy with a larger-than-life personality as the program looks to get back on the national map. While there are obstacles in Miami, the recruiting area is extremely fertile. Certainly, this is a team that should be contending for ACC Coastal division titles and not losing to Florida State 45-17 at home to a first-year head coach in Jimbo Fisher, who looks positioned to do nice things in Tallahassee.
Since the start of the 2007 season, 47 teams have more wins than Miami — including four from the state of Florida. Under Shannon, the Hurricanes were just 16-16 in the ACC.
Not only did the losses to Florida State and South Florida hurt, but Florida almost certainly will bounce back next year with its 2010 class being a year older and another talented class coming in. Central Florida will play in the Conference USA title game next week, and even Florida International made waves this year by winning the Sun Belt.
Every team in the Sunshine State seems to be on the upswing — except Miami.
And that's why the 'Canes will have a new head coach next season.
Email dave.miller@nationalfootballpost.com or follow me on Twitter at Miller_Dave