July 24, 2010 -
Dave Miller
Does Haden hire spell doom for Kiffin?
With the announcement that NBC Notre Dame analyst Pat Haden will return to USC to become the school's new athletic director, head coach Lane Kiffin's tenure in Los Angeles doesn't look to be longterm.
Does it seem insane to even think this way before Kiffin has coached a single game for the Trojans?
Absolutely.
But if we've learned anything about college athletics over the years, it's that a little bit of smoke can turn into an awfully big fire — really fast.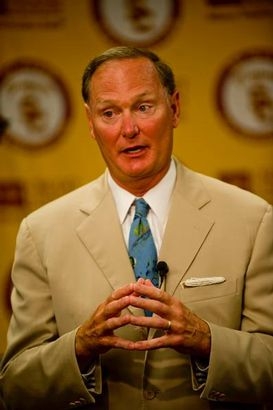 ICONNew AD Pat Haden is part of a new regime in Los Angeles.
Southern Cal administrators were set on changing the perception of the school when they searched for an AD to replace Mike Garrett. Right or wrong, Garrett represented everything that went awry at the major program. Being in charge during the Pete Carroll-Reggie Bush era? No one could survive that.
So in comes Haden, who will right the ship and keep it tight. But can Kiffin work in that type of environment?
Let's be honest, Kiffin is young and brash. He has his own way of doing things. He believes that he is the program.
Under Haden, the head coach may still be the face of the program, but he will be grounded. And regulated.
I'm sure we all have heard the calls for Haden, who played quarterback for the Trojans, to act immediately and fire Kiffin — which is ludicrous. Just from a financial perspective, that won't happen because 'SC would never eat up the millions of dollars in salary and risk a wrongful termination lawsuit. From an organizational perspective, Kiffin will be given every opportunity to win now with a roster still loaded with talent despite player defections from the recent sanctions and the team coming off of a less-than-spectacular season.
Some will argue that Kiffin was a Garrett hire, which by extension means that Kiffin is seen as part of the recent problems and should be gone, as well. After all, he was on the staff when Bush was winning his Heisman Trophy. Plus, the way Kiffin bolted from the Tennessee job isn't one of his shining moments but until this point is his defining moment as a coach.
But nonetheless, Kiffin certainly should be given every opportunity to right the ship in Los Angeles and prove everyone wrong.
What I wonder about is whether Kiffin decides that working under a new regime ultimately isn't worth it and that this new USC — one with a dramatically altered power structure — isn't the USC that he had come to love while he was first on campus.
Incoming president C.L. Max Nikias is certainly doing a good job of rebranding the Trojans' athletic department. Under his watch, he will make it a priority that the words "lack of institutional control" will never be associated with 'SC again. That seems to be one of the main reasons why J.K. McKay is being brought on board as an associate AD for football. Having another cook in the kitchen so close to the football team may be what ultimately gets under Kiffin's skin. McKay, a longtime friend of Haden's, will stick to Kiffin like glue.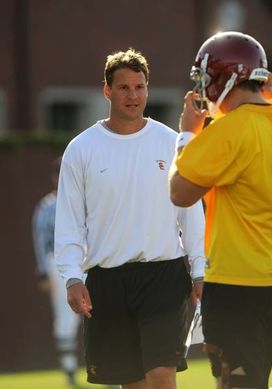 ICONHow long will Lane Kiffin's tenure at USC last?
Of course, if Kiffin decides that he wants out of this situation, he will only do so knowing that an opportunity will be waiting for him somewhere else. No matter how much money he is being paid not to coach, Kiffin needs the spotlight. He wouldn't stay away from the sideline for too long.
While the situation in Los Angeles is certainly awkward, winning cures everything. What if Kiffin is the right leader for the football team, the one who restores the glory in clean fashion?
Perception is everything, however. Even if Kiffin does win this year, eventually gets through the two-year bowl ban and the lack of scholarships, and everything seemingly is done by the books, Kiffin's residence at 'SC will always be overshadowed by doubt and second-guessing.
Kiffin, along with Ed Orgeron, is still associated with Carroll, Bush and Garrett.
Therein lies the rub for Haden, the university, the media and college football fans across the nation.
And for the coach who was supposed to make a seamless transition as the new face of USC football.
Follow me on Twitter at Miller_Dave
Ready for fantasy football? Click here to purchase the 2010 Total Access Pass/Draft Guide from the NFP.