June 21, 2011 -
Dave Miller
Does LSU have the edge in race for Winston?
Top Class of 2012 prospect Chad Kelly announced his commitment to Clemson late last week, and fellow top quarterback recruit Gunner Kiel continues to weigh his options. But what about two-sport star Jameis Winston?
The signal-caller and switch-hitting center fielder/pitcher is positioned to have his pick of top-tier programs — both on the gridiron and on the diamond. And his dual-sport status, coincidentally, is what makes his recruitment even more intriguing for fans and extra frustrating for college coaches.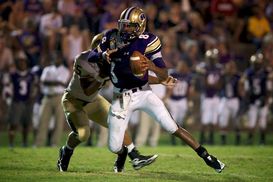 Jameis Winston has a bright future whether it's on the gridiron or the baseball diamond.
The 6-4, 200-pounder is leaning toward signing with a school that has strong football and baseball programs, which must be music to the ears of LSU head coach Les Miles. And according to Derek Ponamsky of BayouBengalsInsider.com, the dual-threat has narrowed his choices to LSU, Florida State and Alabama, with the Tigers possibly positioned as the team to beat. According to Ponamsky, a rival coach recruiting Winston said the quarterback "wouldn't stop talking about LSU" on a visit to his school.
If the Hueytown, Ala., native ultimately ends up choosing to enroll in Baton Rouge, he would get to work with a veteran offensive coordinator in Steve Kragthorpe, who has received rave reviews based on his work with incumbent Tigers starter Jordan Jefferson this spring. Of course, Winston would also face serious competition under center in 2012 with former Georgia Bulldog Zach Mettenberger on the roster. And there's also Jerrard Randall, who was one of the top signal-callers in the Class of 2011.
But no matter where he decides to play major-college football, competition is inevitable. And Winston is lauded for his competitiveness and toughness both on and off the field.
But what about that burgeoning baseball career?
Winston is projected to be a high pick in the 2012 Major League Baseball first-year player draft. He has said in the past that being drafted in the second round wouldn't be good enough to get him to commit to the baseball diamond full time because the money wouldn't be enough to punt a college football career. But what about first-round money, which would likely include a seven-figure signing bonus? Could a major-league organization sway him to focus on one sport if the club drafted him in the first round?
We see the diamond drama playing out currently with Russell Wilson, the former three-year starter at N.C. State who is playing in the minor leagues for the Colorado Rockies organization. Wilson was considered a near-lock to enroll at Wisconsin and play for Bret Bielema and the Badgers in 2011. But the dual-threat is reportedly struggling with risking his future with the Rockies and still has not completely decided whether it would be worth playing one more year of college ball.
Winston may have to make a similar decision — but even earlier than Wilson. And as he admitted to Jeff Sentell of The Birmingham News late last month, he knows that a two-sport college career may be nothing but idealistic.
"There's a good chance I might have to make a decision between playing those sports in college and pro baseball," he admitted to the paper. "I've got a big summer ahead where I'll be playing more baseball than football. This is the most important baseball summer I will go through."
Clearly, Winston's dealing with a full plate, especially when he had his heart set on playing both sports in college. Now, he would just like to make a decision and put one aspect of the process behind him. However, the baseball question will continue to weigh on the recruit's mind — at least when he isn't giving opposing defenses fits on the gridiron.
Coming off of a strong showing at the Elite 11 quarterback qualifier in Columbus, where he shared the stage with fellow top quarterback recruits Kiel and Zeke Pike, Winston is looking to improve on a wonderful junior campaign. In 2010, he completed 65.3 percent of his passes for 2,334 yards and 17 touchdowns against just four interceptions. In addition, he carried 128 times for 870 yards and nine more scores in helping lead his team to an 11-2 mark.
The talent is there on the gridiron. Major-college coaches already know that. But the question remains whether Winston will be able to eventually display that talent on Saturday afternoons — or if the dream of being a major-leaguer will be too strong to give up.
Email dave.miller@nationalfootballpost.com or follow me on Twitter at Miller_Dave