September 16, 2010 -
Dave Miller
Does UCLA have a secret weapon for ailing offense?
UCLA sits at 0-2 on the season and already has a conference loss to its name. The "Revolver" offense has looked anything but productive, quarterback Kevin Prince can't stay healthy and the offensive line is still trying to adjust to a revolving door of personnel.
Can a true freshman running back cure an ailing Bruins offense?
Perhaps — and it's not highly regarded Jordon James.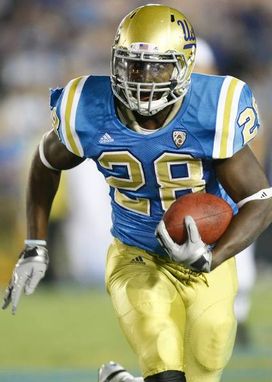 ICONMalcolm Jones will get more carries Saturday with Derrick Coleman sidelined.
After battling ankle and thigh injuries during fall camp, Malcolm Jones continues to rise up the depth chart and could be in line for many more carries with starter Derrick Coleman out for Saturday's game against Houston with a mild concussion.
Jones had three carries for 21 yards in the opener against Kansas State and saw his load increased against Stanford last Saturday when he carried the ball seven times for 52 yards. While Johnathan Franklin will start this week, Jones should get plenty of chances with the ball in his hands because of his game-breaking ability — something the Bruins have lacked this year as they look for any way to score points.
"He has that natural feel running with the football," Bruins offensive coordinator Norm Chow said. "The way he makes his reads and runs, he has that natural feel for what is going on."
The 6-foot, 223-pounder not only had runs of 20 and 14 yards against Stanford, but he had another 20-yard gallop erased by a penalty late in the game.
While the ground game may be in good hands, can the Bruins get any stability under center? Prince went through a full practice this week, so rust can no longer be used as an excuse if the team's offensive woes continue.
Follow me on Twitter at Miller_Dave or send your college football questions to dave.miller@nationalfootballpost.com
Click here to win cash today playing fantasy football with the NFP and FanDuel.