October 23, 2012 -
Dave Miller
Don't dismiss a Georgia upset over Florida
Just thinking back to Georgia's blowout loss to South Carolina earlier this month, one would be considered crazy to give the Bulldogs much of a chance on Saturday against Florida in Jacksonville.
And taking a look at some of the defensive numbers for Mark Richt's squad, it would appear that the 'Dawgs won't be able to stop a revamped Gators offensive attack under first-year coordinator Brent Pease.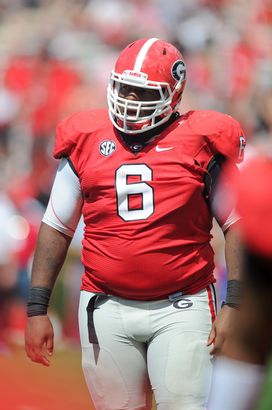 US PRESSWIRENT John Jenkins and the Bulldogs are talented defensively, but can they contain the ground game of the Gators?
Georgia's run defense has given up 633 rushing yards in the last three games, including 206 yards to a Kentucky squad that is weak on the ground. Part of the problem seems to be that star players such as nose tackle John Jenkins and inside linebacker Alec Ogletree just don't seem to be playing with the type of focus and consistent energy as we've seen in the past.
Meanwhile, the Gators possess an offensive line that is playing physical and is opening up consistent holes for running back Mike Gillislee, quarterback Jeff Driskel and a variety of other Gator playmakers. And an effective ground game has helped the Gators utilize the play-action pass, with Driskel often finding Omarius Hines and Jordan Reed through the air.
But expect the Bulldogs to key on the run and try to force some early non-ideal passing situations for Driskel. And while the offensive staff has given Driskel a little bit more freedom recently, we still haven't seen the Gators become a vertical passing team quite yet. A few three-and-outs early could prevent UF from sitting on a lead and could give the Bulldogs the confidence they need to get going early and forget about what happened to them in Columbia against the Gamecocks.
Offensively, Georgia needs quarterback Aaron Murray to play mistake-free and be the player he has been all season long, with the exception of his poor showing at South Carolina. Murray seemed to be rattled because he wasn't getting the necessary protection from his hogs up front against the Gamecocks' pressure. Georgia's O-Line should expect plenty of rushes from UF's front, so Murray needs to get rid of the ball quickly. I would expect a heavy dose of freshmen running backs Todd Gurley and Keith Marshall as well as veteran Ken Malcome on the ground, but the Gators may be able to shut them down. It would be wise for Georgia's offensive staff to call a variety of screens and short passes to get Murray comfortable, slow down the Gators' pressure and perhaps avoid third-and-longs.
The Bulldogs are 1-9 against Top 10 teams since the start of 2008, and they have just four wins in the past 22 meetings against Florida. But the Bulldogs should be able to play loose considering no one expects them to win, and they could also spoil Florida's BCS title dreams.
Can the 'Dawgs put it all together for a full 60 minutes, or will we see another subpar effort from a talented yet enigmatic Mark Richt squad?
Email dave.miller@nationalfootballpost.com or follow me on Twitter at Miller_Dave