November 27, 2012 -
Dave Miller
Don't expect Miles to leave LSU
We knew that there would be several head-coaching openings in the SEC after several teams went through difficult 2012 campaigns, but never could anyone have imagined that LSU head coach Les Miles would be involved in the coaching carousel.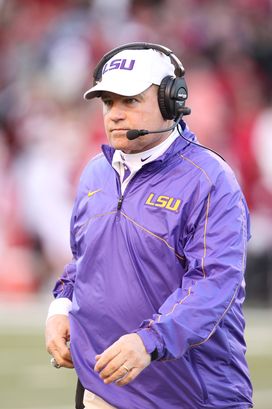 US PRESSWIRELes Miles reportedly has an offer on the table to take over at Arkansas.
But that's exactly what is happening, as Sports by Brooks first tweeted that Arkansas has made an offer of five years and $27.5 million for Miles to take over in Fayetteville.
The Times-Picayune reported that the offer forced LSU athletic director Joe Alleva and the coach's agent to schedule a meeting Tuesday to discuss the wooing on the part of the Hogs. While LSU declined to comment on the report, LSU SID Michael Bonnette told the paper that the Sports by Brooks tweet had been brought to Miles' attention and that Miles "didn't have anything to say" about the matter.
So the question is how real is this offer?
There's no doubt that the Hogs are prepared to break the bank for John L. Smith's replacement, and going after a head coach with an 85-20 record and a 2007 BCS National Championship at LSU is well worth it if the reported figures are true. Arkansas athletic director Jeff Long formerly worked at Michigan for eight years with Miles, so bringing in a fellow "Michigan man" and former colleague to Fayetteville would be appealing. But despite the reported large offer, it does not mean that Miles would switch SEC West schools.
The 59-year-old Miles' contract at LSU pays him $3.751 million annually, and he also has incentives for postseason performances. The deal was altered back in August 2011, and it will likely be modified again because the Tigers do not want to lose the second-winningest head coach in school history.
This is very likely a product of Arkansas pooling all of its best resources and going after a standout head coach with a strong history of success, as well as Miles' agent, George Bass of Dallas, doing what he can to get his client the best situation possible. And that most always involves money.
Interestingly, in that same report from The Times-Picayune, it was pointed out that Bass is also the agent for TCU head coach Gary Patterson, who was once considered the leading candidate for the Arkansas opening. But when Patterson said he was staying in Fort Worth, the attention reportedly switched to Miles because of his relationship with Bass.
Agents are powerful people, of course, in major pro and college sports. In this case, though, don't expect it to make a difference.
Miles in Fayetteville? Not likely. Not when he doesn't even have to leave the state of Louisiana to recruit and build what is becoming an annual Top 10 program.
Long should absolutely be going after the biggest names in the college game, but don't expect the Hail Mary pass to Baton Rouge to be successful. I'm not buying the Mad Hatter to Fayetteville.
Email dave.miller@nationalfootballpost.com or follow me on Twitter at Miller_Dave