April 18, 2011 -
Dave Miller
Don't tell the SEC that they're just spring games
This past weekend's slate of spring games may not matter in the BCS standings. But for college football fans in various parts of the nation, seeing their favorite teams on the field following a three-month absence is an annual tradition.
Big crowds came out to support their schools on Saturday. As CNBC Sports Business Reporter Darren Rovell points out, many schools do not release an official attendance number. Thus, the following list is far from complete. But you'll get the idea that spring football matters in certain parts of the country, especially the South. Most especially in the SEC, where 10 schools are listed in the Top 20 in spring game attendance.
*List also includes numbers from games that occurred prior to this past weekend, such as Florida and Texas.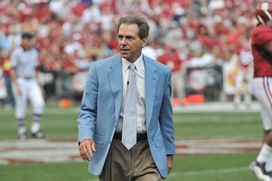 ICONIt was just another football Saturday for Nick Saban and the Tide this past week.
Alabama: 92,310
Nebraska: 66,784
Florida State: 53,818
Auburn: 53,209
Florida: 51,000
Georgia: 43,177
Arkansas: 42,000
Mississippi State: 36,357
Tennessee: 35,891
South Carolina: 29,451
Texas: 29,541
Mississippi: 28,000
Notre Dame: 27,863
Clemson: 27,000
Oklahoma: 25,598
LSU: 25,032
North Carolina: 15,500
Texas A&M: 16,500
Oklahoma State: 16,000
Colorado: 15,655
Email dave.miller@nationalfootballpost.com or follow me on Twitter at Miller_Dave