July 19, 2012 -
Dave Miller
Don't write off Dooley just yet
Derek Dooley knows full well that an 11-14 record in his first two seasons as Tennessee's head coach has not excited the masses in Knoxville.
Consequently, he realizes that 2012 is as near a make-or-break season as there is in the SEC.
Things have been a little tumultous on Rocky Top since Phillip Fulmer's second-to-last year at Tennessee in 2007, when the Volunteers last won more than seven games in a season. Lane Kiffin arrived in town with high expectations, only to leave for USC a little more than a year later.
So Dooley, the son of former Georgia head coach and athletic director Vince Dooley, came to a school that was thirsting for a return to prominence. The former assistant to Nick Saban who was hired away from Louisiana Tech in January 2010 — mere weeks before National Signing Day — was given a short amount of time to salvage the year's recruiting class but did so by managing to bring a Top 10 haul to Knoxville.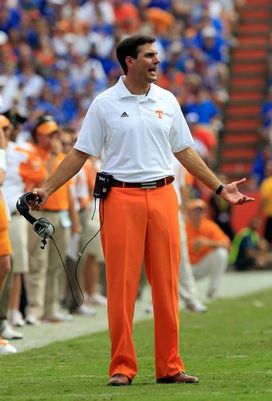 Derek Dooley has compiled an 11-14 mark in his first two seasons at Tennessee.
Despite player departures, a youthful team lacking depth started the season 2-6 but rallied behind then-freshman quarterback Tyler Bray and ran off four consecutive wins to close the regular season and earn a berth to the Music City Bowl. Despite falling to North Carolina in the contest, many felt a foundation had been built.
But the 2011 season left a bitter taste in a lot of Vols fans' mouths.
The Volunteers finished 5-7, culminating with a season-ending loss to Kentucky to end a 26-game winning streak against the Wildcats. With back-to-back losing seasons for the first time since 1910-1911, 2012 immediately became a critical year for Dooley.
This offseason hasn't been any easier for Dooley either, with upheaval on the coaching staff, including losing defensive coordinator Justin Wilcox and rising recruiter Peter Sirmon to Washington. However, Alabama assistant Sal Sunseri was ready for a DC position and the hope is that he could bring a little Crimson Tide flair to Knoxville. He'll be working with a unit that finished 28th nationally in total defense despite being an inexperienced and youthful group.
Tennessee fans should also be enthused that Dooley was able to put together another strong recruiting class this past February, and the expectation is that the Vols should be much improved this fall because of a boatload of returning starters. Productive quarterback Tyler Bray will have one of the best receiver duos nationally in Justin Hunter and Da'Rick Rogers, and Marlin Lane had 106 rushing yards and a touchdown in the team's spring game. The team ranked 116th nationally in rushing while recording just 11 touchdowns on the ground in 2011, so Lane and Rajion Neal as well as Devrin Young and Tom Smith will need to provide some semblance of a rushing attack.
The Vols will be an improved team in 2012, but this squad needs better leaders and a stronger sense of team chemistry, including improved communication from its no-nonsense head coach. Without question, Dooley has replaced Georgia's Mark Richt as the SEC head coach on the hottest seat because of the rocky first two seasons he's endured. But, given the dire state of the program he inherited, is it really fair?
Vol fans must keep in mind that Dooley arrived to a roster that wasn't as talented or deep as many of the best teams in Tennessee history. And most of Kiffin's players from the heralded 2009 class either didn't pan out or are gone for various reasons. And there were the typical roster casualties when a new coach comes aboard as well.
We've seen head coaches get canned after two years on the job. But unless there are off-the-field issues that are overwhelmingly negative, it's hard to understand why coaches are getting less time than ever to try to turn around a program. The coaching carousel, at times, seems ridiculous.
However, the prospects for Dooley and the 2012 Vols don't look as dim as many have projected. While the SEC remains the toughest conference in America, there are signs that Dooley could win back the fan base. But the neutral-site opener against N.C. State could go a long way in determining the fortunes of the team this fall — as well as Dooley's fate on Rocky Top.
Email dave.miller@nationalfootballpost.com or follow me on Twitter at Miller_Dave