January 16, 2013 -
Dave Miller
Don't write off Virginia Tech's Thomas just yet
Logan Thomas decided to remain at Virginia Tech for a final season of college football, and the quarterback could not have made a more wise decision.
The dual-threat entered his junior season as one of the most intriguing NFL prospects, with some scouts projecting him as a near-lock to be a first-round draft pick and perhaps the first signal-caller taken because of his tremendous array of physical gifts, including very good size, mobility and a strong arm.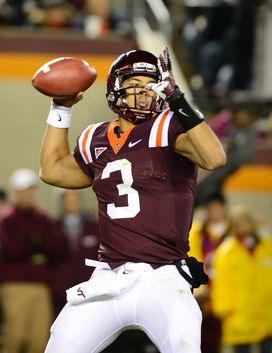 US PRESSWIRELogan Thomas will return to Virginia Tech for his senior season.
But for whatever reason -- whether it was a revamped offensive line, a rushing attack that never materialized and/or a receiving corps that was depleted from the previous year's draft -- Thomas suffered through a brutal 2012 campaign in Blacksburg.
The Hokies suffered through a six-loss campaign, as Thomas tossed an alarming 16 interceptions and completed just 51 percent of his passes. He knows he has a lot of unfinished business at Tech.
"I'm deciding to come back to Tech to better myself and this team for the future," Thomas said in a statement. "I'm looking forward to what this upcoming season holds. The NFL has always been a goal of mine, but the NFL will always be there while college is only a five-year experience that you can't get back."
By returning for the 2013 campaign, Thomas has a chance to change the minds of draftniks and NFL personnel that have second-guessed his ability to perform at the next level.
The question is whether or not new Hokies offensive coordinator Scot Loeffler will be able to get the best out of Thomas.
Head coach Frank Beamer tabbed the former Auburn OC to replace Bryan Stinespring, who will now serve as the tight ends coach. Many people question the hire because of the Tigers' woeful offense in 2012. But Auburn's struggles were multi-faceted. Decision-making was a huge issue for Thomas this past fall, and at least Loeffler will be working with a quarterback who has extensive starting experience and a track record of success going back to the 2011 season. And Loeffler is best known for his development of quarterbacks.
While he will install a pro-style offense, Loeffler will mix things up a bit as well. So expect the Hokies' offense to have some spread principles, too, so Thomas can use his wide array of athletic skills.
Loeffler, who has experience in the NFL and college as a quarterbacks coach, has worked with John Navarre and Chad Henne at Michigan as well as Tim Tebow at Florida. He is now charged with getting Thomas to play like the quarterback who threw just 10 picks and led the Hokies to the Sugar Bowl a year ago.
The test begins immediately for the pair, however, as Virginia Tech opens the 2013 season in the Georgia Dome against two-time defending BCS national champion Alabama. It's a tough task, but Thomas needs such an opportunity to prove to scouts that he is ready to put a dreadful season behind him.