September 27, 2012 -
Dave Miller
Dooley enters make-or-break stretch at Tennessee
Derek Dooley knows just how important the 2012 season is for his future at Tennessee. And he knows that his fate will likely be determined by how his Volunteers fare during their upcoming four-game stretch that will make or break their season.
The Vols head coach, who is in his third year in Knoxville, takes a 14-15 overall record and 4-13 SEC mark into Athens on Saturday against Georgia. It starts a key four-game stretch for the Vols — at Georgia, at Mississippi State, home vs. Alabama and at South Carolina — that will either put them on the road toward a successful season or a pink slip out the door for Dooley.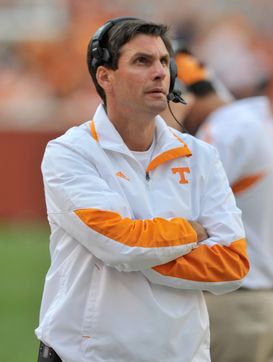 US PRESSWIREDerek Dooley knows that his Vols must put together a strong campaign in order for him to get a fourth season in Knoxville.
The Vols began the season on a high note with a 35-21 victory over N.C. State at the Georgia Dome, a game that served as a coming-out party for wide receiver Cordarrelle Patterson. And first-year coordinator Sal Sunseri's defense picked off Wolfpack quarterback and future high NFL draft pick Mike Glennon four times.
But all of the momentum that was built with that win was lost when the Vols fell once again to Florida, the eighth straight time in the series that they've fallen to the Gators. Boos were aplenty at Neyland Stadium by the end of that loss as fans are thirsting for the Vols to return to the SEC's elite.
Sitting at 3-1, Tennessee still has every chance to get back in the SEC East race and compete for a nice postseason trip a year after going 5-7 and falling to Kentucky. But does this team have what it takes?
New athletic director Dave Hart did not hire Dooley, so he's obviously watching this season closely. With expectations always high on Rocky Top, the fact that Dooley inherited a mess of a situation will not be used as an excuse when evaluating the 2012 season.
But it's easy to forget how difficult of a situation Dooley inherited.
The Vols have not won more than seven games in a season since Phillip Fulmer's second-to-last year in 2007. When Fulmer was forced into retirement, Lane Kiffin arrived with the highest of expectations. However, the former Oakland Raiders head coach decided to leave for the USC head gig a little more than a year later.
What many people forget is that the talent level in Knoxville had slipped under Fulmer, so Kiffin didn't exactly inherit a stocked roster. And while Kiffin was able to land some high-star players in his first recruiting cycle, either a player didn't pan out athletically or he left the program. So all of the coaching instability led to plenty of roster turnover. Dooley, subsequently, had to deal with major depth issues in his first two seasons. In addition, he lost top assistants Justin Wilcox and Peter Sirmon this past offseason and had to deal with more player personnel issues such as the behavior of star receiver Da'Rick Rogers, who is no longer with the program.
Last year's loss to Kentucky, the school's first to the Wildcats in 26 years, surely will never sit well with Tennessee fans. But Hart and this administration should allow Dooley enough time to put his mark on the program. However, this is major college football, and Dooley is well aware that the plug can be pulled if things quickly turn sour this fall.
On Saturday in Athens, the son of former Georgia head coach and athletic director Vince Dooley will begin a critical stretch that ultimately will help decide his future. Bulldogs head coach Mark Richt knows the feeling of being under extreme scrutiny, as his team begin the season 0-2 last year. But the 'Dawgs rallied and made it to the SEC Championship game. Can the Vols put together a similar rally and get Dooley off of one of the hottest coaching seats in America?
Email dave.miller@nationalfootballpost.com or follow me on Twitter at Miller_Dave