October 26, 2010 -
Dave Miller
Dooley: 'We're like the Germans in World War II'
When you're struggling through rebuilding mode in your first season on the job, fighting frustration certainly becomes a daily battle. Perhaps that's what Tennessee head coach Derek Dooley was fighting on Monday during his weekly media appearance when he compared his young team's struggles to that of the German forces during the Allies' invasion of Normandy in World War II.
I'm not a history buff, but I do know that the Americans landing at Omaha Beach on D-Day caught the Germans by surprise. Apparently, Dooley thinks his Volunteers and the Germans have something in common.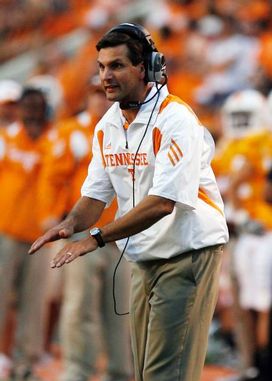 ICONTennessee head coach Derek Dooley knows his world history.
"Right now we're like the Germans in World War II," Dooley said. "Here comes the boats, they're coming. You have the binoculars, and it's like, 'Oh, my God, the invasion is coming.'"
The Vols certainly have had their share of in-game struggles, often hanging around with stronger teams for a half or so before eventually wilting. But this historical comparison certainly came out of nowhere.
"I don't want the German people to get upset at me," he said. "I'm not attacking them, but that's what happened. You had one group, they weren't worried about what the plan was and orders and all that. When the war hits, things change. You've got to go.
"You had the other group, and they go, 'Wait a minute, they told us the invasion was way further north,' where we had the empty tanks and we were hiding Patton out. 'We weren't ready for this, now what do we do?' 'We better wait until Rommel tells us what to do.'"
Based on his knowledge, if the gig with the Vols doesn't work out, Dooley likely would hold his own as a History professor.
Tennessee (2-5, 0-4) has lost three straight games. The Vols are at South Carolina Saturday.
Email dave.miller@nationalfootballpost.com or follow me on Twitter at Miller_Dave