June 09, 2014 -
Dave Miller
Early signing period remains a hot topic
While the NCAA-Ed O'Bannon trial has taken center stage because of its potential ramifications, the debate about an early signing period in college football continues.
At its recent spring meetings, the SEC recommended the Monday after Thanksgiving as the date if there is such a move to an early signing period. Retaining the current model (the first Wednesday in February) is the first choice for the league, however. Meanwhile, ACC commissioner John Swofford and his league stand behind an early signing period beginning on August 1.
While the Big Ten has not put out an official statement about a possible early signing period, league commissioner Jim Delany will discuss the matter at the Conference Commissioners Association meeting on June 16. The association (a 32-member paneI of Division I conference commissioners) would have to approve an early signing period because it governs the national letter-of-intent program.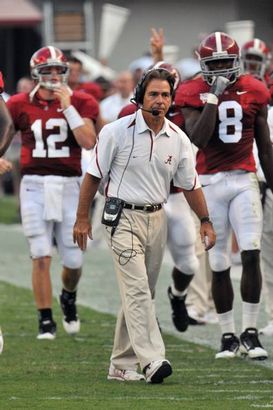 ICONAlabama's Nick Saban will have no trouble bringing in top-tier talent no matter if an early signing period is in place or not.
Of course, there has long been discussion between coaches and administrators about an early signing period, as verbal commitments occur at a much earlier rate — as do subsequent decommitments. In fact, a proposal by the American Football Coaches Association for a mid-December signing period was voted down by commissioners in 2008. But there seems to be real traction now for some sort of change as college football faces a variety of legislative issues.
What could be on the horizon?
While there are a lot of unanswered questions, an early signing period would allow recruits to sign binding agreements well ahead of the first Wednesday in February, perhaps as early as the end of a prospect's junior year but likely somewhere in between the ACC's proposed August 1 date and the SEC's late November recommendation. If the NCAA and the conference commissioners do indeed agree to an early date, it would likely not affect the Class of 2015 but would be in place for the 2016 class.
As we have seen in recent years, recruiting has never been more in the spotlight. Between reading message boards, engaging in social media and conversing with coaches, high school prospects are being pulled in many directions. The recruiting process has never been more hectic, and we're seeing more and more prospects give nonbinding pledges well before National Signing Day in February. But coaches can't stop recruiting them, of course, because the pledges are nonbinding and they know that other schools will continually try to get them to waver. Decommitting, then, essentially is as prevalent as committing itself. So the prevailing thought is that an early signing period would take away issues like the high rate of decommitments (it would also drastically alter the recruiting calendar in terms of official visits, the spring evaluation period, etc.).
Still, there are some coaches against an early period. Stanford head coach David Shaw does not love the idea because the school's tougher academic requirements do not allow the staff to absolutely know if a player will qualify at such an early time. Other coaches, meanwhile, hold an "If it isn't broke, why fix it?" mentality. Still, most everyone involved in the sport understands that some fine-tuning of the recruiting process would be best for everyone involved.
But exactly how will this change take place?
We'll learn more after the Conference Commissioners Association meeting next Monday. But it can be argued that a lot of the craziness involved with recruiting is a byproduct of coaches continually recruiting prospects who have already committed to a school. Sure, the pledge is nonbinding. However, backing off a prospect out of respect for his choice would solve a lot of issues. Perhaps self-policing within the coaching community is too utopian of a thought, though.
The question then becomes whether coaches would try to persuade recruits to make early decisions if an early signing period is put into place. After all, we're talking about the high-stakes business of major college football.
Whether or not change is on the horizon, the debate about an early signing period is an offseason storyline that bears following.
Dave Miller, the college football editor and writer for the National Football Post, is on Twitter @Miller_Dave.