February 20, 2012 -
Dave Miller
Early spring practice notes
Alabama may have put the finishing touches on the 2011 college football season less than a month and a half ago, but Army was the first program to kick off spring practice as preparations for the 2012 campaign have already begun.
The Black Knights began full practice last Monday as Rich Ellerson hopes to improve a team that ranked 108th in turnover margin and 100th in rushing defense. Meanwhile, first-year Sun Belt member South Alabama began practice this past Wednesday. In addition to South Alabama, UMass (MAC), Texas State (WAC) and UT-San Antonio (WAC) will make their debuts in the FBS this season.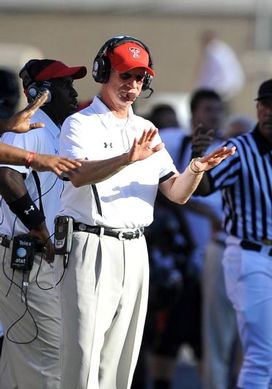 ICONCan Tommy Tuberville take the Red Raiders back to the postseason?
Texas Tech was the first BCS conference member to open practice, as Tommy Tuberville's Red Raiders hit the field on Friday in preparation for its spring game March 24. Boston College kicked off its spring drills on Saturday as the Eagles begin preparing their depth charts for the 2012 season with the first of 15 allotted spring sessions.
Here's what's on tap this week:
Tuesday: San Diego State opens practice in preparation for its spring game on March 18.
Wednesday: Duke and Memphis open practice and will both play their spring games on March 31. Tulane opens drills as well before playing its spring game on March 24.
Thursday: Texas begins spring practice in preparation for its spring game on April 1.
Saturday: TCU and Texas State begin spring practice. The Horned Frogs will hold their spring game on April 5 while Dennis Franchione's Bobcats will have their spring showcase on March 31.
While not every school has officially released its spring schedule or completed its preparations for its spring game, I will post the list of spring practice dates (which will be updated as more schools make their dates available) as currently comprised for all 124 FBS programs on Tuesday.
Early spring practice notes
Army: The Black Knights led the nation in rushing offense last season but were very poor defending the run and committed 26 turnovers. The front seven was small and slow, and replacing Steven Erzinger will be difficult. The linebacker was the team's leading tackler last fall. Nine defensive starters are back, but will there be improvement? The team will play its annual Black/Gold Game at Doughboy Stadium on the campus of Fort Benning, Ga. on March 9.
Boston College: Replacing All-American Luke Kuechly, who left early for the NFL Draft, will be the biggest defensive storyline. Sean Duggan and Nick Lifka will compete for the open spot in the middle, but keep an eye on Steele Divitto, who replaced Mark Herzlich last year at strongside linebacker. He is athletic and tough enough to move inside and become the next face of the BC defense. He recorded 72 tackles, two sacks and an interception last fall. Offensively, the return of running back Montel Harris, who missed most of last season with a knee injury, is the best news that head coach Frank Spaziani could have asked for this offseason. Harris has been cleared to participate in spring drills but won't be pushed too hard. The NCAA granted him a medical hardship waiver, so one of the best running backs in the nation will help out an offense in desperate need of production. Harris has rushed for 3,735 yards in his career.
Texas Tech: The Red Raiders will move from a 4-2-5 defense back to a 4-3, with starting strong safety Terrance Bullitt converting to strongside linebacker. Also keep an eye on linebacker Will Smith, who transferred from Riverside (Calif.) Community College, as well as linebacker Chris Payne, another JC transfer who came in at midterm. The linebacker corps could be the strongest part of the defense next fall after two true freshmen started at LB last year. Offensively, the Red Raiders look to be more consistent and better establish the running game. But with health issues at running back, quarterback Seth Doege may once again be leaned on for production. However, receiver Alex Torres suffered a torn ACL against Missouri and will be sidelined for spring drills, taking away a top offensive target. Look for Eric Ward, who caught 84 passes and earned honorable mention All-Big 12 honors last season, and Darrin Moore to be Doege's top options.
Email dave.miller@nationalfootballpost.com or follow me on Twitter at Miller_Dave