January 13, 2014 -
Erik Oehler
East-West Shrine Game notebook: Day 1
ST. PETERSBERG, FL--After one day of practices, the Shrine Game has already provided storylines, flashed the good and bad in many prospects and set expectations for the rest of the week. While there's still three more days of practice and the game to add to players' reports this week, some took advantage of the early opportunity to stand out on Day 1.
Jeff Mathews of Cornell, Jordan Najvar of Baylor and Andre Hal of Vanderbilt lead a group of players who impressed, while some along the offensive line and a heavy linebacker led the list of those who added some concerns to their scouting reports.
Those who impressed
1. Jeff Mathews, QB, Cornell
Clearly the best quarterback on either team Monday, Mathews appeared to quickly make up for his struggles as a senior at Cornell. Garnering a second-round grade coming into his senior season, Mathews showcased arm talent, velocity control and vertical placement on day one. He'll look to build on a strong initial practice as the week progresses, but the key for evaluating Mathews will be to see how he handles a pass rush—which is where he struggles most—footwork-wise.
2. Jordan Najvar, TE, Baylor
A late invite, Najvar has already made the most of his opportunity. He didn't always get a chance to show it at Baylor, but the sure-handed pass-catcher made several smooth, in-traffic catches Monday when working down the field. Separating from linebackers and attacking the ball at the highest point against zone coverage, Najvar has emerged as a "move tight end" prospect that scouts will follow this week.
3. Andre Hal, CB, Vanderbilt
Hailing from a solid, yet underappreciated, Vanderbilt defense, Hal showcased plus fluidity and quickness his senior year. However, his adjustments to the ball and overall footwork were inconsistent and he was out of position at times this season despite having the athleticism to finish plays. One day one, however, Hal consistently won in the red zone, getting his head around quickly and denying his receiver. With Missouri's E.J. Gaines out of the game due to injury, Hal has been pegged as the top defensive back in attendance.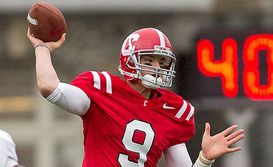 Cornell quarterback Jeff Mathews was one of several players who stood out Monday in Florida.
4. Hakeem Smith, SAF, Louisville
Smith may be undersized and the less heralded of the two Louisville safeties in this class (junior Calvin Pryor is reportedly the top safety on some teams' boards), but he impressed in his first day at the Shrine Game. Playing both safety spots, Smith filled in the box with authority and displayed impressive positioning for a day one practice and looked balanced and controlled in nickel coverage. If he can bulk up during the draft process, Smith could emerge as a top-5 safety in this year's class.
5. Matt Hazel, WR, Coastal Carolina
One of the many small school players in attendance, Hazel earned his invite thanks to strong hands and his ability to finish at the catch point. And on day one he won in exactly those two areas, finishing catches in traffic and providing his quarterbacks a big target on the outside on the many hitch routes the offense ran on day one. Hazel may not be the best deep threat, but he's quickly emerging as the go-to receiver for the East quarterbacks during practice.
Those who struggled
1. Most Offensive Linemen
The West didn't get a chance to practice with pads and the East only did limited pure lineman drills, but the lack of talent on both lines is apparent. While a few stood out in their limited opportunities (Oklahoma's Gabe Ikard, Furman's Dakota Dozier and Belhaven's Matt Hall), most offensive linemen succumbed to the remarkable defensive line talent in atendance. I'd expect this trend to continue throughout the week and into the game.
2. Max Bullough at the Weigh-In
While I didn't gather anything on the Michigan State linebacker during practice, the news of Max Bullough's reported 265-pound weigh-in result is certainly a concern. In my current scouting report, I compared Bullough to a less athletic, but more physical version of Manti Te'o. His anticipation and high IQ were constantly on display at Michigan State, but if he's above 260, Bullough likely limits himself strictly to 3-4 defenses.
3. Jeremy Gallon, WR, Michigan
Gallon certainly didn't do anything to hurt his draft stock, but for a 5'8 receiver, he has little room for error. He didn't get a chance to gain separation much of the day with the routes the team was running, but a drop in the red zone and limited open space for quarterbacks to target him concerned me. He'll look to bounce back Tuesday and beyond, especially with quarterbacks and receivers having more of an opportunity to get on the same page.
Who To Watch For Tuesday
1. Offensive/Defensive Linemen in "The Pit" Drill
Tuesday at the All-Star games is usually the start of the highly anticipated "Pit" drills, where linemen go one-on-one and get to put their muscle and quickness to the test. These drills will comprise the bulk of my notes for Tuesday and we'll learn a lot about these defensive linemen, and more importantly, how they compare to each other, after the practice.
2. Pierre Desir, CB, Lindenwood
With Missouri's E.J. Gaines gone, Desir has the most upside of any cornerback here. At around 6'2, he is built remarkably well throughout his frame. At small school Lindenwood, Desir wasn't targeted much during his senior year and that trend continued Monday. Look for him to thoroughly impress once the squads get into team drills more frequently.
3. Jimmy Garoppolo, QB, Eastern Illinois
Despite Jeff Mathews of Cornell earning the "Best Quarterback of the Day" award, Garoppolo should bounce back and have a solid week. A potential Senior Bowl call-up, Garoppolo should find more chemistry with his receivers by Day Two, giving him the chance to really showcase his quick release, placement and timing on the edge, and the talent level that has pushed him into the high Day Two discussion.
Follow Eric on Twitter: @OptimumScouting</a>