November 03, 2010 -
Dave Miller
Election Night results
So it's Election Night, and I'm going to be up quite awhile monitoring the races. But I wanted to inform all sports fans out there about the key races involving some prominent sports figures.
Real quick, though: if you don't follow @TebowTweets on Twitter, you probably should start. It legitimately collects nothing but tweets about the Denver Broncos quarterback and retweets them for all of its followers. One that stood out on Election Night came from @asianorange: I put Tim Tebow in the write-in ballot for mayor of Denver. Good stuff.
Now if I happened to overlook and miss a race involving a sports personality, feel free to drop me a note below in the Comments section and I will make the addition.
Linda McMahon: The former CEO of WWE lost her bid for a U.S. Senate seat in Connecticut to Attorney General Richard Blumenthal. This one was an ugly race, as throughout the Republican primary and general election she was questioned about the WWE's role in steroids, the health of the wrestlers and the way wrestling portrays women. She is believed to have spent at least $50 million of her own money on her campaign.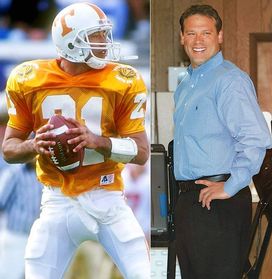 Heath Shuler made a successful transition from athlete to politician.
Heath Shuler: The former star quarterback for the University of Tennessee is a North Carolina Democrat who was re-elected to the U.S. House of Representatives. He also wouldn't mind being Speaker of the House, announcing he would vote against House Speaker Nancy Pelosi if the Democrats hold the House. Shuler, who broke with his party's leadership, held off Republican Jeff Miller.
Keith Fimian: The former Cleveland Brown is a Republican who ran for a U.S. House seat in Virginia.
Shawn Bradley: The 7-6 former BYU star and NBA player ran for a Republican seat in the Utah Statehouse and is currently trailing.
Chris Dudley: The 6-11 Yale grad and former NBA journeyman center is the Republican candidate for governor in Oregon, and he's in a tightly contested race against former governor John Kitzhaber, the Democratic nominee. He received support during his campaign from NBA commissioner David Stern.
Jon Runyan: The former Philadelphia Eagles and San Diego Chargers lineman was the Republican candidate for a U.S. House seat in New Jersey. He defeated incumbent Democrat John Adler in a tight race. Just last January he was playing in the NFL playoffs.
Other notes:
The U.S. Senate is losing Hall of Fame pitcher Jim Bunning of Kentucky to retirement. Sen. Herb Kohl of Wisconsin, owner of the Milwaukee Bucks, was not up for election.
Pro Football Hall of Famer Alan Page retained his seat on the Minnesota Supreme Court.
Kendrick Meek, once a defensive lineman at Florida A&M, was beaten decisively in the Senate race in Florida won by Marco Rubio. The Democrat drew less than 20 percent of the vote.
In a Virginia congressional race, former Cavaliers football player Kenny Golden lost. The conservative Republican ran as an independent.
Republican Connie Mack, the great grandson of the famous manager, won re-election to Congress from Florida.
In the Tennessee Legislature, former American League umpire Dale Ford ran unopposed. That must have been fun.
Follow the Daily Jolt on Twitter: Daily_Jolt
The Daily Jolt is a section of the National Football Post that serves as a one-stop shop for all things football, sports, pop culture and everyday life.
The section's editor, Dave Miller, also writes the Against the Grain college football column for the NFP. When he isn't putting coaches on the hot seat, he can often be found daydreaming of being the future Mr. Katy Perry. You can follow him on Twitter at Miller_Dave.