October 19, 2014 -
Dave Miller
End of the road could be near for Muschamp
It's going to be awfully difficult for Will Muschamp to bounce back from this one.
The Florida head coach suffered through a disastrous 42-13 home loss to Missouri on Saturday night at The Swamp, as the Tigers had four returns for touchdowns and the Gators could not generate any sort of consistent offensive production against a team that lost at home to Indiana and just last week was shut out by Georgia in Columbia. UF turned the football over six times against Mizzou and fell behind 42-0 despite allowing the Tigers to record just seven first downs and 119 yards of offense. The Gators just couldn't overcome their own self-destructive ways.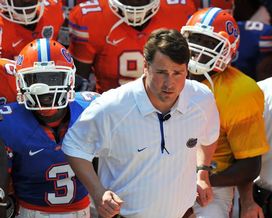 Are Will Muschamp's days numbered in Gainesville?
Saying that UF athletic director Jeremy Foley did not sleep well last night would be an understatement.
So how do the Gators pick up the pieces?
It's hard not to think that Muschamp's days as the head man in Gainesville are over. But when exactly will be the expiration date?
Remember that Foley did axe Ron Zook and his staff midseason, on October 26, 2014, effective at the end of the season. The timing was a bit surprising back then and such a move would be unlikely to occur now. Foley said last month that he would wait until the end of this season to decide Muschamp's fate.
But this Gators team is an absolute mess.
Injuries and youth can be attributed to some of the woes, but the fact is that a once-proud program has become a national laughingstock. And head coaches don't survive these downward spirals.
Muschamp, who is just 7-12 since beating Florida State in 2012, is going to get dimissed. The question is when will Foley decide to make the move. Complicating matters is the fact that the Gators have a bye week before their annual World's Largest Outdoor Cocktail Party meeting with Georgia, one of the hottest teams in the SEC. There's likely to be a lot of noise over the next two weeks around Gainesville regarding Muschamp's status, so Foley better be ready for it.
In terms of possible replacements, where would Florida look?
It remains one of the best jobs in the entire country. Foley absolutely should put out feelers to those close to big names such as Bob Stoops, Brian Kelly, Dabo Swinney, Rich Rodriguez, Hugh Freeze, Dan Mullen and Mike Gundy. Florida is a job that every coach in America would think long and hard about accepting. You at least have to gauge the interests of the best coaches in the country no matter how unlikely they may seem.
And then there's Steve Spurrier. Highly doubtful, of course. But who better to bring fun — and winning — back to Gainesville?
The town sure needs both badly right now.
Dave Miller, the college football editor for the National Football Post, is on Twitter @Miller_Dave.