April 07, 2011 -
Dave Miller
Even Big Suh knows the value of a good pedicure
If you don't already love Twitter, you have to start embracing it now.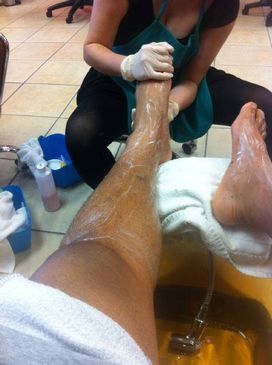 Ndamukong Suh has no problem sharing his everyday life with Twitter Nation.
Because you never know what you will see.
On Thursday afternoon, Detroit Lions star defensive lineman Ndamukong Suh proved to the world that women aren't the only ones who can pull off going to the spa and getting a pedciure.
The reigning NFL Defensive Rookie of the Year, who was praised by teammate Nate Burleson recently for having the capability of being among the best ever at his position, tweeted the following on his Twitter account, @ndamukong_suh: What up twitter fam, what are y'all up to today?! I'm in the middle of a pedicure.
But no worries Detroit fans. Suh will remain nasty on the field.
Off the field, however, the powerful lineman always has to stay fresh.
Follow the Daily Jolt on Twitter: Daily_Jolt
The Daily Jolt is a section of the National Football Post that serves as a one-stop shop for all things football, sports, pop culture, everyday life and more.
The section's editor, Dave Miller, also writes the Against the Grain college football column for the NFP. When he isn't putting coaches on the hot seat, he can often be found daydreaming of being the future Mr. Kara DioGuardi. You can follow him on Twitter at Miller_Dave.