July 02, 2012 -
Dave Miller
Even without Crowell, don't dismiss Georgia
There's no question that the dismissal of running back Isaiah Crowell
But Bulldogs head coach Mark Richt had no choice but to kick the 19-year-old troubled player off of the team Friday after being arrested on weapons charges. It was the most serious of a string of off-the-field issues for the former gem of Georgia's 2011 "Dream Team" signing class. And while he remains immensely talented, being charged with two felonies in addition to a misdemeanor is a headache that no football team needs. The hope now is that Crowell, who was suspended twice as a freshman, can get his life on the right track.
So who do the 'Dawgs turn to in the backfield to keep up their high expectations for the 2012 season?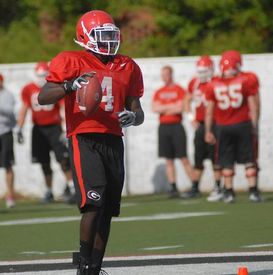 Keith Marshall enrolled early but will need to have a strong fall camp to get early carries in the Georgia backfield.
The team has some intriguing options, although some are more experienced than others. Richt signed two very good running backs this past February: Keith Marshall and Todd Gurley. Marshall was an early enrollee who turned some heads this spring. Gurley will be available to work out during fall practice. Even if Crowell remained on the team, both were expected to see action this year.
Unfortunately for Richt and the offensive staff, their paths must now be accelerated. Picking up the team's blocking scheme, of course, will be the most difficult aspect of the transition from high school to the college game, as is the case for most young backs.
If the freshmen struggle to make a fast adjustment, redshirt sophomore Ken Malcome is the top option to get the most carries. And the 6-foot, 226-pounder had a very good spring after rushing for 174 yards on 42 carries last year. His numbers were modest because he quit the team briefly in 2011 and appeared in just one of the first eight games. But coming out of spring Richt had him listed as the co-No. 1 running back along with Crowell. He's a physical back who led the Dawgs in rushing their last three games of 2011.
Richard Samuel should also get some short-yardage carries. The 6-2, 243-pound senior had 240 yards and a score on 82 carries last fall, but he likely will see most of his time at fullback behind Merritt Hall. He has battled injuries throughout his career, but he showed in 50-plus-yard outings last year against Vanderbilt and Florida that he can be a stopgap option. And he will be the most experienced member of the backfield.
The one player going under the radar is Brandon Harton, a 5-6, 174-pound junior who had 247 yards and a touchdown on 53 carries last fall. He won't start and does not have the frame to be an every-down back, but he can certainly be a change-of-pace back. He was one of Georgia's best players in its win against Kentucky last season, rushing 23 times for 101 yards. He also had 98 yards against New Mexico State.
So Crowell's departure is not the end of the world for Georgia — the team has options in the backfield. But it would certainly help if either Marshall or Gurley — or both — quickly develop.
As long as the run game is fairly consistent and complements star quarterback Aaron Murray and that stout 3-4 defense, the Bulldogs will remain a frontrunner in the SEC East as well as a darkhorse national title contender.
Email dave.miller@nationalfootballpost.com or follow me on Twitter at Miller_Dave