April 25, 2011 -
Dave Miller
Examining the quarterback situation at Ohio State
The focus on the Ohio State football program returned to on-the-field activity Saturday as the Buckeyes held their annual spring game in front of an announced crowd of 44,276 in Columbus.
After an offseason of drama including the NCAA investigation into Jim Tressel's failure to report that some of his players traded memorabilia for cash and free tattoos, the Buckeyes head coach led his team into Ohio Stadium donned in camouflage gear as part of military appreciation day and watched as four quarterbacks battled for the temporary starting gig under center while Terrelle Pryor serves his five-game suspension.
Let's take a look at how the quarterbacks, who all threw a scoring pass on Saturday, stacked up in the final scrimmage of spring practice.
Joe Bauserman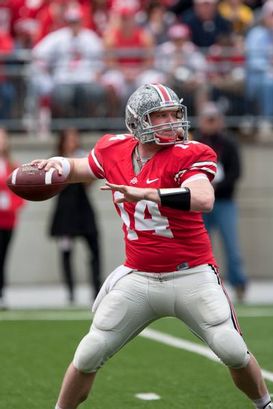 ICONJoe Bauserman is the most experienced signal caller behind Terrelle Pryor.
The odds-on favorite to win the job, Bauserman completed 4 of 11 passes for 42 yards with a 16-yard touchdown to walk-on Ryan Ross on the last play of the day. But he was also sacked twice. The senior, who took the first reps of the game, has backed up Pryor the past two seasons and is the easy choice to step in and keep the job warm until Pryor returns. The 6-1, 233-pounder may not be flashy, but he's the most experienced out of the four signal callers and knows the offense better than the competition as well.
Braxton Miller
Miller is arguably the most talented signal caller in this bunch, but he is just a true freshman who arrived on campus in January. On Saturday, he completed 7 of 12 passes for 73 yards and finished his spring on a high note after a rough start to the practice season. He displayed a quick release and seemed poised under center. When flushed out of the pocket, he was able to make plays with his feet and still maintain vision down the field. The high-profile recruit from suburban Dayton also threw his 15-yard touchdown pass to Philly Brown with the first-team offense going up against the first-team defense, and he led a 92-yard scoring drive that was capped by a 5-yard run by Jordan Hall. Clearly, the 6-2, 190-pounder is the future leader under center and reminds many fans of Troy Smith.
Kenny Guiton
Guiton was 5 of 11 for 43 yards. The sophomore recorded the first touchdown of the game — a 17-yarder to Verlon Reed. The 6-2, 190-pounder has good mobility in the pocket and has some velocity on his throws. Guiton has continued to pick up the playbook and certainly didn't do anything to lose steam in this race. He may not have been as impressive as he was in last year's spring showcase, where he finished 11 of 21 for 167 yards, but what impresses me about Guiton is that he'll go through all of his progressions despite possessing the athleticism to take off and run when it'd be easy to fall back on his run skills.
Taylor Graham
Graham was 4 of 9 for 91 yards on the day. The redshirt freshman did connect on a 68-yard touchdown bomb down the field to T.Y. Williams. However, the son of former Buckeyes quarterback Kent Graham was sacked five times, including three in a row on one possession. The 6-4, 225-pounder doesn't seem to have the instincts yet to step in and lead this offense.
The big picture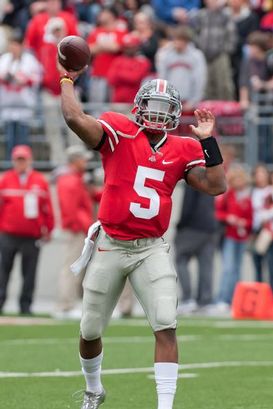 ICONBraxton Miller was impressive on Saturday, but could the keys be handed over to a true freshman?
"I thought Braxton probably played a little bit more relaxed and had a little bit more fun than he has, in part because we really limited what we were doing today," Tressel said after the scrimmage. "Joe and Kenny showed that they've been around and they are able to manage our offense and know what's going on. Taylor had the big home-run throw but took a couple too many minus-yard plays."
Because of numerous injuries and a lack of depth along the offensive line, Saturday's game was played as a controlled scrimmage. It should also be noted that the team played without ten injured defensive backs — yes, ten members of the secondary. So it's a little concerning that the offense didn't score a touchdown until its ninth possession. The offense rushed for only 120 yards and threw for 249 yards on 86 total plays from scrimmage. The unit, however, did not turn the ball over.
So what does this mean as we head toward the summer months?
Well, the battle under center continues into August, where Pryor will be back in the mix after he recovers from offseason foot surgery. While he will miss the first five games of the 2011 season, he will still receive a large portion of reps in practice. Therefore, there likely will only be two other signal callers receiving significant snaps.
Based on this spring season, Bauserman and Miller seem to be well-positioned for a close battle next fall.
Email dave.miller@nationalfootballpost.com or follow me on Twitter at Miller_Dave