May 14, 2011 -
Dave Miller
Ex-Michigan CB on investigation at OSU: 'No one was surprised'
In case you were wondering how some people associated with the Michigan football program were feeling about Ohio State as it continues to be investigated by the NCAA, Morgan Trent has no problem sharing his feelings on the matter. In fact, as he said on Friday during the WTKA Mott Takeover, he's surprised the transgressions came as a shock to anyone.
"I don't think anybody sitting at this table was surprised to hear that information," the former Wolverine told Michael Rothstein of AnnArbor.com. "No one was surprised to hear that. I think everyone has known all along that something more was happening."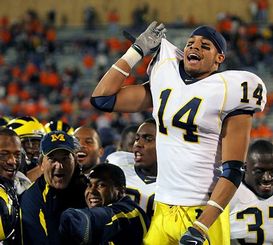 Former Michigan DB Morgan Trent isn't surprised that Ohio State is in hot water.
"Are they the only school in the country to do it? No. But they are starting to crack down on it, and it is too bad (they) got caught."
Of course, Ohio State has been accused of NCAA violations ranging from players selling memorabilia to head coach Jim Tressel lying about having knowledge of the incidents and trying to cover up the situation. There were also allegations of shady dealings with a local car dealership.
Trent maintains that the university in Ann Arbor runs quite differently.
"At Michigan, we're by the book here, we did things the right way and are doing things the right way," he said. "I can't say that about the school down south, and, obviously, that's coming to light what they do.
"If they are going to recruit players and get players by giving away vehicles and doing this and doing that, then more power to them, but that's not working out for them."
And Trent wasn't the only one who shared his opinion on the matter. Former Michigan tight end Aaron Shea weighed in, as well.
"Karma," Shea said. "The NCAA better come in hard on these guys."
Clearly, the best rivalry in the Midwest.
Email dave.miller@nationalfootballpost.com or follow me on Twitter at Miller_Dave</p>