January 03, 2013 -
Dave Miller
Fiesta Bowl preview: Oregon vs. Kansas State
The 2012-13 college football postseason continues Thursday night as Oregon and Kansas State collide in the Fiesta Bowl.
Let's take a look at some of the most important aspects of this matchup between the Ducks and the Wildcats.
Oregon (11-1) vs. Kansas State (11-1) at 8:30 p.m. ET on ESPN
Glendale, Arizona
• Not a Baylor repeat: If Kansas State is to hang with Oregon and its high-octane offense, the Wildcats cannot fall far behind on the scoreboard as they did in their lone loss to Baylor this season. Against the Bears, K-State's defense put star dual-threat quarterback Collin Klein in a 28-7 hole with 2:54 left in the first half. That essentially made Klein and the offense one-dimensional. The Wildcats were able to score 10 consecutive points before the break, but Klein threw his second interception of the contest on the opening drive of the second half. He would toss three picks against two touchdowns, and he was sacked twice while being harassed all night. He threw for 286 yards but had only 39 yards on 17 carries with a score. And on first-and-goal from the 6 in the fourth quarter, Klein had four straight carries and couldn't reach the end zone. Klein improved as a passer from 2011 this fall, but this is still a run-first attack. If the Wildcats fall behind by a few scores early, they will have to play catch-up all night. And that will play right into the Ducks' hands, as defensive coordinator Nick Aliotti will be able to bring multiple disguised blitzes when Klein is forced to throw the ball more than the Wildcats are accustomed to doing. The positive for K-State is that Klein should be 100 percent after playing well but not great down the stretch following an apparent head injury against Oklahoma State in early November.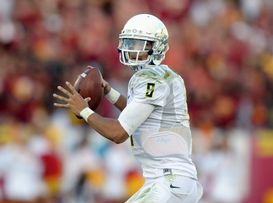 US PRESSWIREMarcus Mariota and the Ducks will look to get off to a fast start against K-State.
• About that high-octane attack...: Even non-football fans, at this point, seemingly are aware of Oregon's dominant offense. It is the reason why Chip Kelly will reportedly interview with a few NFL teams following this bowl game. Redshirt freshman quarterback Marcus Mariota was in the Heisman Trophy race until he was wrapped up by Stanford late in the season, and running back Kenjon Barner and athlete De'Anthony Thomas pose problems for even the best of defenses. Also keep an eye on athletic tight end Colt Lyerla and speedy receiver Josh Huff when Mariota goes back to pass. But Stanford took Oregon out of its comfort zone and forced Mariota and Co. into a plethora of third-and-long situations. Twelve times in that contest, the Cardinal had the Ducks in third-and-seven or worse, including on the overtime possession when Mariota was unable to deliver a score. If the Wildcats could get the Ducks in those third-and-longs even a handful of times, that will keep them in the game so long as Klein and the K-State offense can sustain some long drives.
• Which defense has the edge?: The Ducks have their best defense of the Kelly era. While there were a lot of points scored by the opposition in garbage time as well as against USC, the Ducks were as strong as ever defensively despite suffering a rash of key injuries. Kelly and Aliotti have been cognizant of developing defensive depth because the unit is on the field a lot due to the offense scoring quickly, and it really paid off in 2012 because the defense was great despite the offense leading the FBS in touchdown drives that lasted one minute or less (22) and two minutes or less (44). The Ducks have been exceptional at forcing turnovers, and they often didn't waste much time cashing in on them offensively. Oregon is No. 3 in the nation in turnover margin; however, Kansas State is No. 1.
• Intangibles: This game is so fascinating because Kansas State's only loss was to a Baylor team that employs an up-tempo offense like Oregon (although they are different in many ways), and it featured running back Lache Seastrunk, who transferred to Baylor from Oregon. Meanwhile, Oregon lost to a Stanford team that has better talent than Kansas State but plays the type of tough, physical defense that the Wildcats have leaned on themselves under the Bill Snyder revival. Will the Kelly-to-the-NFL rumors be a distraction for the Ducks?