January 11, 2011 -
Dave Miller
Final: Auburn 22, Oregon 19
The final game of the college football season is ready to kick off in just a little bit in Glendale, Ariz., as top-ranked Auburn battles No. 2 Oregon in the BCS National Championship Game.
I will be with you the entire evening, providing updates and in-game notes. In case you missed it earlier here at the NFP, you can check out my game preview here.
8:15 p.m. ET: So how do we feel about Oregon's socks tonight? Is the brightness as blinding for you as it is for me?
8:21 p.m.: Some late notes I didn't sneak into my preview:
• The SEC is 6-0 in BCS National Championship Games. With a win, Auburn would give the league five straight BCS titles, with four different schools winning the last four.
• Because both of these teams are being led by a second-year head coach at his respective school, 10 of the past 11 coaches to win the BCS title will have done it within the first four seasons at that program.
8:28 p.m.: By the way, throughout the game feel free to leave your favorite moment of the college season down below in the Comments section. There have been many for me. I will divulge mine at some point tonight.
8:31 p.m.: And here come the Ducks out of the tunnel!
8:32 p.m.: And now the Tigers!
8:36 p.m.: Oregon wins the toss and elects to receive.
8:39 p.m.: Josh Huff slips on two different occasions on the kickoff return. Not great field position for Oregon. Ducks are wearing the same cleats that TCU wore at the Rose Bowl. Horned Frogs had problems with their custom Nikes too.
8:44 p.m.: Auburn is going to force an opening three-and-out. Tigers not fooled by pitches. Punt is horrid, giving Tigers and Cam Newton good field position at their own 38.
<p class="co_image co_image_right inline_right">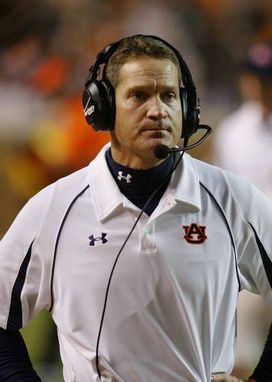 ICON
Auburn head coach Gene Chizik
8:46 p.m.: There's the McCalebb jet sweep on the first play from scrimmage. Big gain. But Kenny Rowe, who had three sacks in last year's Rose Bowl, gets to Newton and forces a fumble, which is recovered by an offensive lineman. On third-and-17, Darvin Adams drops a first down near the sideline. Tigers punt.
8:49 p.m.: LaMichael James takes a screen pass and crosses midfield for a big gain. Who said the Ducks needed to work the perimeter?
8:53 p.m.: Darron Thomas attempts to swing it around to Barner and is intercepted by Washington. A little too high as it went off Barner's fingertips. First turnover of the game.
8:57 p.m.: Cliff Harris with the interception of Newton. Nick Aliotti really mixing up coverages. Ducks take over near midfield.
9:00 p.m.: Two things: we're seeing some new formations for Oregon on offense tonight. That expanded practice time is paying off. Also, Newton had his first incompletion on the opening drive of a game this season. He was 19 for 19 entering this contest.
9:03 p.m.: Nick Fairley brings the pressure, Zac Etheridge makes the pick. Thomas rushed a throw and it's his second pick of the game. This one in the red zone.
9:05 p.m.: Wow, on third-and-five Newton is swallowed up. Nowhere to run and nowhere to throw. Punt time. 21 yards of total offense for the Tigers.
9:12 p.m.: Oregon is threatening. The pace has picked up and Auburn was caught with too many men on the field when trying to substitute.
9:13 p.m.: TCU has to be loving this game thus far. AP national champs? No score after one quarter of play.
9:16 p.m.: Fairley completely blows up a zone-read option play. Thomas misread the play. Had he handed off to James, the Ducks would lead 7-0. Instead, 3-0 Oregon after settling for a field goal.
9:17 p.m.: Auburn's defensive linemen often looked confused and tentative on that drive. They should consider holding Oregon to a field goal there a major victory.
9:22 p.m.: Mike Dyer giving the Auburn offense some energy. Now the Tigers are picking up the pace.
9:24 p.m.: Wow, Cliff Harris looks to have his second pick of the night. A diving play made on a ball intended for Adams. This is going to the booth. He went out of bounds but it looked like he was able to land cleanly on the playing field before sliding out of bounds.
9:27 p.m.: Crisis averted for the Tigers. Officials determine that Harris did not have possession. And Newton hits Kodi Burns for a 35-yard touchdown strike. Auburn takes the lead, 7-3.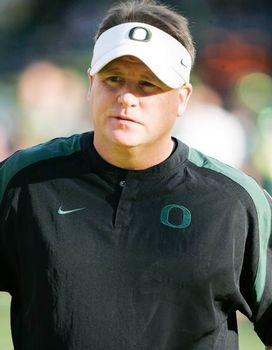 ICONOregon head coach Chip Kelly
9:31 p.m.: WOW, an 81-yard strike from Thomas to Jeff Maehl. Gutsy call by Chip Kelly with Oregon backed up after trickery on the kickoff led to nothing. Huge play for the Ducks. The catch by Maehl was the longest in BCS title game history.
9:35 p.m.: Misdirection screen pass on 3rd and 8, Thomas finds James for a touchdown. 93 yards in 57 seconds. And WOW, a fake extra-point attempt. Holder pitches to the kicker. A success! 11-7 Ducks. Kelly is insane.
9:41 p.m.: Tigers converting some third downs on this drive.
9:43 p.m.: Another slip, this time by Dyer. Too many players are slipping out there.
9:47 p.m.: Newton dives ahead for a first down on 3rd and 2. Inside the 5.
9:49 p.m.: Newton stopped on 3rd and goal. The Tigers go for it on 4th down and Newton short-arms a wide-open Eric Smith. Pass is incomplete. Should have been caught even though it wasn't a great throw. Ducks defense holds.
9:53 p.m.: Auburn defense has huge opportunity here with Oregon backed up at the 1. Safety! Wow, let the weird plays continue to unfold. James is stopped and fails to stretch the entire football across the goal line. 11-9 Oregon. James is limping coming off the field.
9:58 p.m.: Dyer picks up a first down. And then Newton finds a wide-open Emory Blake down the sideline for a 30-yard touchdown. Dyer, Zachery and Blake. Run, run, dink and dunk. And then take your shot down the field. 16-11 Auburn. Newton with another impressive escape from Oregon defender.
10:00 p.m.: Late hit on the kickoff by Auburn gives Oregon first down at its own 38.
10:06 p.m.: Ducks punt. 30 seconds remaining in the half. The Tigers will try to run out the clock but the Ducks have all three timeouts left. Auburn is backed up inside its own 5.
10:10 p.m.: Second half should be equally nuts. First half isn't over yet, though. McCalebb with another long run and a pass down the middle. Malzahn sending receivers down the seams and Newton is finding them.
10:13 p.m.: Hail Mary by Newton falls incomplete in the end zone. No South Carolina miracle here. 16-11 Auburn leads at the half.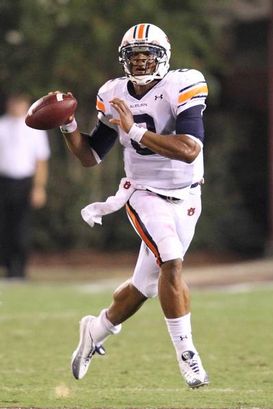 ICONAuburn QB Cam Newton
Halftime numbers: Newton is 16 of 22 for 186 yards passing with two touchdowns and one interception, and Auburn had 258 total yards in the second quarter after getting just 21 in t he first. Dyer, after sitting out the first quarter, had 11 carries and 47 yards in the 2nd quarter. Thomas was 15 of 19 for 194 yards passing with one score and two picks. The difference: In the second quarter, Auburn had 36 plays for 258 yards while Oregon had 11 plays for 107 yards. Of course, 81 came on the Maehl catch.
10:36 p.m.: We are ready to start the second half. Can Oregon regain the momentum? The Ducks will be on defense to start the half after a rough second quarter.
10:38 p.m.: Newton slipped while making a cut on both of his runs to start the second half. He is wincing coming to the sideline during a timeout. He's back on the field but he is hurting.
10:42 p.m.: Oregon holds after Newton has some big plays in the passing game, including hitting Lutzenkirchen with Kenny Rowe trying to cover him. Field goal. 19-11 Auburn. One-possession game still.
10:47 p.m.: Fairley gets a 15-yard penalty for grabbing James' facemask after the play while he was on the ground. That's the Fairley we know so well. James is now getting going a little bit on the ground after being held in check in the first half. All of his damage in the first half occured in the first quarter through the air.
10:51 p.m.: Long run by Thomas called back by a holding penalty. Broken play netted big yardage but it's coming back.
10:53 p.m.: Auburn's front four continues to bring pressure against Thomas. Ducks forced to punt after Thomas drops it off underneath and the punt reaches the end zone for a touchback. This is the Oregon offensive line's worst game since the Cal near-debacle. Field position also in Auburn's favor.
10:58 p.m.: Wow, double move by Adams would have been a sure touchdown. But Newton overthrows him. Tigers punt and the Ducks will have first down on their own 27.
11:02 p.m.: Newton has a short-armer and an overthrow in this one. The score could be slightly ugly.
11:04 p.m.: Fake punt is successful! Kelly dials it up and makes another splendid call. And then Lavsier Tuinei with a fantastic catch. James is on the sideline with a hand injury.
11:07 p.m.: Ted Roof's unit with the stop on fourth down. That one hurts if you're a Ducks fan. But the line of scrimmage war once again is won by the Tigers. Fairley continues to make plays and could be getting stronger as the game goes on.
11:11 p.m.: Newton scampers on third down to pick up a first. The fourth quarter could be all about Newton and the ground game now. We will head to the final quarter of the season with the Tigers leading 19-11.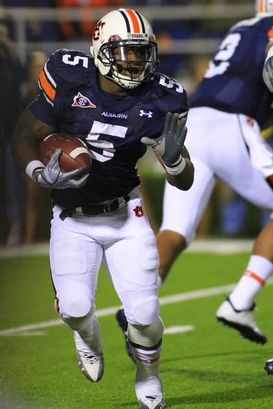 ICONStandout Auburn freshman RB Michael Dyer
11:17 p.m.: Dyer is special. Was overshadowed by his own offense, South Carolina's Marcus Lattimore, etc. this season. But the true freshman stepped up tonight. Meanwhile, Oregon has rushed 28 times for 74 yards. The tough yards have been hard to find.
11:23 p.m.: Auburn is forced to punt, and Cliff Harris refuses to fair catch the return. He's wrapped up immediately, and we'll now see what Kelly can dial up to spark his offense. 13:24 remains.
11:26 p.m.: The Ducks come out throwing, and it remains clear that Auburn is taking away what they have done best this year. Fairley just manhandles James inside, and it's 3rd and 18. But Thomas with a huge throw to Paulson for a first down. James with a great blitz pick-up on that play.
11:30 p.m.: Drive stalls. Once again, Thomas is forced into a bad throw on third down. Defensive lineman in his face. The Ducks punt it back.
11:34 p.m.: 11:00 left, Auburn has first down at its own 20. Newton picks up a big first down on third and long with a run up the middle. He took a big hit on that one, as well.
11:38 p.m.: Once again, a third-down conversion. Mario Fannin with the catch out of the backfield. But Newton is forced to throw it away on a 3rd and 12, and the Tigers down it around the 13. 6:34 is left in this one. The Ducks need a touchdown and a two-point conversion to tie.
11:44 p.m.: I know Auburn's been stout against the run, but I'm surprised that Kelly has gone away from misdirection a little bit. A lot on Thomas' plate right now. But a big conversion to Maehl on third down keeps the drive alive.
11:46 p.m.: Not being able to tire out the Auburn defense with its offensive tempo has been the difference for Oregon tonight. Ducks have to punt again, as the defensive line disrupts a third-down conversion attempt.
11:48 p.m.: Aliotti's defense is doing its job right now, but the offense just can't do its part. And Newton fumbles! Recovered by Cliff Harris after it was forced by Casey Matthews. 15-yard unsportsmanlike penalty will push the Ducks back, though.
11:53 p.m.: Thomas overthrows Tuinei on 3rd and 5. Fourth and 5 on Auburn's 40 and it's a conversion. Umpire sets a screen on Etheridge. Wow. Pass play takes the Ducks inside the 20. 3:53 left.
11:58 p.m.: Unbelievable. We are locked up at 19 after a James touchdown and a two-point conversion by Maehl. The snap was horrible on the conversion but Thomas was able to recover and make the throw to Maehl.
12:01 a.m.: Big gain by Blake down the sideline on a pass, then Dyer bursts off a nearly 40-yard run. He looked to be down at first but kept running. Replay booth. He was laying on a defender but got up and kept going. Ruling on the field stands. Huge play. Tigers running out the clock to set up potential game-winning field goal.
12:06 a.m.: Dyer. Touchdown. Or was it? To the booth again. Ducks just let him rush right up the middle.
12:09 a.m.: The ruling is that he was down before reaching the end zone. It's Wes Byrum time after Newton fails to take it in. Byrum has five career game-winning field goals, including two this year.
Make it six career game-winners as Byrum helps the Tigers claim their second national championship. Auburn wins it 22-19.
Now onto spring practice...Just joking. More postgame to follow at the NFP.
Email dave.miller@nationalfootballpost.com or follow me on Twitter at Miller_Dave