January 11, 2011 -
Dave Miller
Final NFP Top 25
Here's a look at how the National Football Post stacks up the Top 25 teams in the nation after Auburn closed out the 2010 season by beating Oregon in the BCS National Championship Game on Monday night.
Final record in parentheses and ranking from the previous poll is in brackets.
1. Auburn (14-0) [1]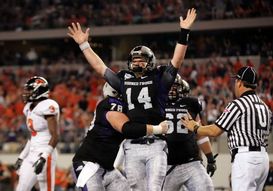 ICONHow would TCU have fared against Nick Fairley and Auburn?
2. TCU (13-0) [3]
3. Oregon (12-1) [2]
4. Stanford (12-1) [4]
5. Ohio State (12-1) [6]
6. Oklahoma (12-2) [9]
7. Boise State (12-1) [10]
8. LSU (11-2) [11]
9. Wisconsin (11-2) [5]
10. Alabama (10-3) [16]
11. Oklahoma State (11-2) [15]
12. Arkansas (10-3) [7]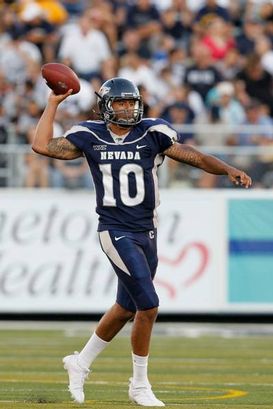 ICONColin Kaepernick and Nevada finished the year with a bowl victory over Boston College.
13. Nevada (13-1) [18]
14. Michigan State (11-2) [8]
15. Virginia Tech (11-3) [12]
16. Missouri (10-3) [14]
17. Mississippi State (9-4) [21]
18. Florida State (10-4) [22]
19. Nebraska (10-4) [13]
20. Texas A&M (9-4) [17]
21. Central Florida (11-3) [25]
22. South Carolina (9-5) [19]
23. Maryland (9-4) [NR]
24. NC State (9-4) [24]
25. Utah (10-3) [20]
Can Auburn repeat?
Well, the Tigers are most certainly going to lose Heisman Trophy-winning quarterback Cam Newton and stud defensive tackle Nick Fairley to the NFL draft. Throw in four senior starting offensive linemen, including All-American tackle Lee Ziemba, as well as defensive end Antoine Carter, linebacker Josh Bynes and defensive backs Zac Etheridge and Demond Washington, and Auburn Nation may want to enjoy Monday night's victory while it can.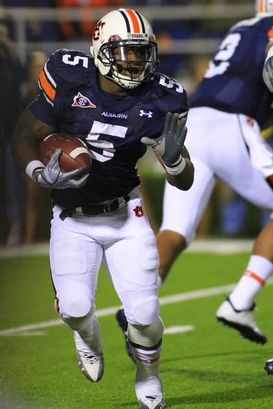 ICONExpect more Michael Dyer in 2011.
However, the cupboard will not be completely bare. Expected returnees at wide receiver include Darvin Adams and Emory Blake, but Kodi Burns and Terrell Zachery will not be back. Tight end Philip Lutzenkirchen will also return, as well as running backs Michael Dyer and Onterio McCalebb. Defensive end Nosa Eguae will be back, as well as linebacker Daren Bates and defensive backs Mike McNeil and Neiko Thorpe. Plus, head coach Gene Chizik has brought in some talented recruiting classes since he arrived on campus.
The most important returnee, however, may be offensive coordinator Gus Malzahn. As the Les Miles-to-Michigan reports started to add up, Tigers fans were starting to get nervous about potentially losing their wizard to Baton Rouge. With Malzahn now unquestionably coming back, fans are hoping to see the same offensive magic. However, that just won't be the case with Newton on an NFL sideline — even if his lower back injury suffered in the game on Monday night affects his draft stock. No. 2 won't be back, so Malzahn will have his work cut out for him. Still, the Tigers should enjoy a nice season in 2011. But look for a new BCS national champion.
Check out the 2011 schedule for the Tigers below. And look at that four-game stretch from October 1 to October 22. Mercy.
2011 Schedule
9.3 Utah State
9.10 Mississippi State
9.17 at Clemson
9.24 Florida Atlantic
10.1 at South Carolina
10.8 at Arkansas
10.15 Florida
10.22 at LSU
10.29 Ole Miss
11.5 Samford
11.12 at Georgia
11.26 Alabama
Email dave.miller@nationalfootballpost.com or follow me on Twitter at Miller_Dave