January 31, 2011 -
Dave Miller
Five best remaining uncommitted players
With National Signing Day just two days away, we are getting closer to finding out where the country's top remaining uncommitted prospects will land.
Out of all of the available highly skilled players in the country, these performers stand out the most. And coaches from some of the top college programs are making last-ditch efforts to land their services.
Be sure to stay with the NFP for all of the latest recruiting news as Feb. 2 approaches. But for now, here are the five to watch…
1. DE Jadeveon Clowney: 6-6, 240-pounder from Rock Hill, SC
Simply put, Jadeveon Clowney is the best high school prospect in the Class of 2011. And no matter where he signs, he will have an impact next fall.
The defensive end from South Carolina, who was the 2010 USA TODAY Defensive Player of the Year, has been the most targeted player by major-college coaches on the recruiting trail. However, we won't find out which college Clowney plans to attend on National Signing Day. The 6-6, 240-pounder will wait until his birthday, Feb. 14, to sign with the college of his choice. He did, however, narrow his list of finalists to South Carolina, Alabama, LSU, North Carolina and Clemson. Most experts agree that the decision has come down to the Gamecocks and Crimson Tide, with the edge going to Steve Spurrier and Co.
Clowney, who recorded three sacks in the Shrine Bowl of the Carolinas, possesses a 36-inch vertical leap and 4.5 speed in the 40-yard dash — freakishly good intangibles that have led him to be compared to the original "freak," former Florida star Jevon Kearse. The most intriguing aspect about Clowney as a prospect is that he has room to add much more bulk as he continues to physically develop. If he maintains his straight-line game speed and great overall athleticism after adding weight, he should develop into the next great SEC defender.
Check out the best of Clowney from his senior year at South Pointe. The highlights include play from the regular season and playoffs, including the 3A state title game.
2010: Recorded 162 tackles, 29 tackles for loss, 29.5 sacks, 11 forced fumbles, six fumble recoveries and scored five touchdowns. Was South Carolina Mr. Football
2009: Registered 24 sacks
2. OL Cyrus Kouandijo: 6-7 325-pounder from Hyattsville, MD
Cyrus Kouandjio can easily sign with Alabama. After all, Nick Saban runs one of the most elite programs in the nation, and Kouandjio's brother, Arie, is a fellow lineman who redshirted in 2010. But the five-star offensive tackle from Maryland could also choose to go to Iowa and play under Kirk Ferentz, who knows a thing or two about developing quality offensive linemen. Kouandjio would also be able to block for old high school teammate Marcus Coker, who will enter the 2011 campaign atop Iowa's depth chart at running back.
Kouandjio excels as a run blocker, as he has excellent athleticism that is rare for a player his size. Because of his frame, he projects well at the tackle position against the highest level of FBS competition. He's tough, is athletic in pass protection and also displays a mean streak when necessary.
The 6-7, 325-pounder, who had a strong week of practice in preparation for the Under Armour All-American Game, visited Auburn this past weekend and has also visited New Mexico. It sounds crazy, but the Lobos may not be as big of a long shot as some would think. Alabama remains the odds-on favorite in the minds of most recruiting analysts, but he really enjoyed his visit to Iowa City. Miami and USC are also finalists for his services.
2010: Played with a sprained knee but was still named to the Consensus All-State Team in Maryland.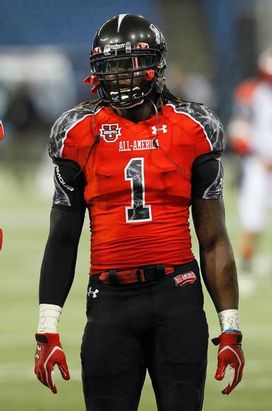 ICONRB Isaiah Crowell will choose between in-state Georgia and Alabama.
3. RB Isaiah Crowell: 5-11, 210-pounder from Columbus, GA
All the eyes of Georgia Bulldogs fans will be on stud running back Isaiah Crowell of Georgia on Wednesday. Will he join the Bulldogs' "Dream Team," which also features Damian Swann, Malcolm Mitchell, Jay Rome and Ray Drew, or will Alabama land his services? With the Bulldogs receiving a commitment from his best friend, safety Quintavious Harrow, many believe Crowell will stay in-state and play for Mark Richt. In addition, Alabama already has four-star running back Dee Hart in the fold.
The well-built runner, who had a great week of practice in preparation for the Under Armour All-American Game, is explosive out of the backfield and is deceptively powerful with the ability to hit the hole fast and reach top-end speed instantly. He has great natural ability as runner and has the body to emerge as an every-down back early in his career.
Crowell has reminded some of South Carolina's Marcus Lattimore, the SEC's reigning freshman of the year last season. If Crowell ends up in Athens, this will be the best class of Richt's tenure. Then the Georgia head coach just has to win enough to be able to stay around and see all this talent develop.
2010: Was a Class AA first-team all-state selection after rushing for 1,627 yards and 17 touchdowns despite missing four games with injuries and rarely playing past halftime in the other 10 contests.
2009: Rushed for 1,907 yards on 175 carries (10.9 yards per carry) and 22 touchdowns and added 241 yards on 18 catches and three more scores.
These linebackers are all very good, so I could not choose just one between the three of them. They should make a major impact at the college level.
4. LB Curtis Grant: 6-3, 220-pounder from Richmond, VA
Curtis Grant was the leading tackler for the East squad in 2011 U.S. Army All-American Bowl, which isn't surprising considering he has very good athleticism. He excels both against the run and pass and possesses good size for the outside linebacker position.
His athleticism will help him get on the field on special teams, and his ability as a coverage defender should get him on the field in third-down situations early in his career.
His finalists include Florida, North Carolina, Ohio State and Virginia.
2010: Was named the district's defensive player of the year.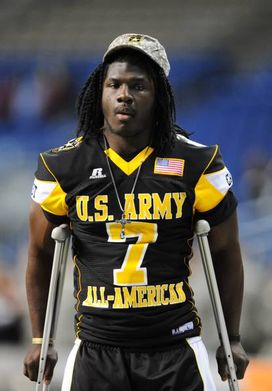 ICONLB Tony Steward has the instincts to make plays all over the field.
4. LB Tony Steward: 6-1, 225-pounder from St. Augustine, FL
Tony Steward possesses excellent athleticism and playing speed along with the perfect size to be an excellent outside linebacker. Very good against both the run and pass, he shows the instincts necessary to make plays all over the field.
A U.S. Army All-American Bowl participant, he will choose between Florida State and Clemson.
2010: Despite missing time with a shin injury, he was the Butkus Award winner as the nation's top linebacker
2009: Recorded 142 tackles, five sacks, two interceptions and four forced fumbles.
4. LB Stephone Anthony: 6-2, 220-pounder from Wadesboro, NC
Stephone Anthony was chosen for both the Shrine Bowl and Under Armour All-American Game this season after having a monster senior campaign. He creates turnovers because of his elite athleticism and ball-hawking skills. He's so dynamic of a football player that he excelled as a running back, but he will be able to hone his craft in college as an outside linebacker.
He runs very well from sideline to sideline and excels in pass coverage. No matter where he signs, he should get the opportunity to play early and will be an every-down player sooner than later because of his potential to make game-changing plays.
He visited North Carolina over the weekend and is considering Clemson, Virginia Tech and Florida in addition to the Tar Heels.
2010: Registered 123 tackles, 16 tackles for loss, four sacks, two interceptions, two forced fumbles and six pass breakups. As a running back, he carried the ball 50 times for 302 yards and seven touchdowns. He also posted 500 return yards and was named the North Carolina Gatorade Player of the Year.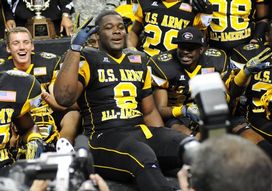 ICONDT Timmy Jernigan is the cousin of former Florida State stars Tamarick Vanover and Brian Allen.
5. DT Timmy Jernigan: 6-2, 275-pounder from Lake City, FL
The cousin of former Florida State stars Tamarick Vanover and Brian Allen, Timmy Jernigan had an outstanding performance during one-on-one drills for the East squad during U.S. Army All-American Bowl week.
Jernigan is a force in the trenches despite not resembling your prototypical defensive tackle. He doesn't have the best of measurables, but that hasn't stopped him from proving to be a load to handle inside. He is a sound tackler and a disruptive pass rusher, but he will take some chances and can get caught out of position at times. Still, his presence is always felt by opposing linemen.
He is considering Florida State, LSU, Florida, Alabama and Tennessee.
2010: Recorded 77 tackles, 32 tackles for loss, 14 sacks and one interception
2009: Registered 131 tackles, 27 tackles for loss, 12 sacks, three forced fumbles and three fumble recoveries. Was an all-state selection
Also watch out for:
DB Erique Florence: 6-2, 185-pounder from Valley, AL
Enrique Florence seemingly played every position in high school, but he has the ideal strong safety mentality. He loves to hit, is tough and physical. He also has the frame to add bulk.
After recording two tackles and two pass breakups in AL-MS All-Star Classic, he is considering Auburn, Alabama, Arkansas and USC.
Email <strong>dave.miller@nationalfootballpost.com or follow me on Twitter at Miller_Dave
Want to work in the NFL? Click here to sign up for the NFP's "Chalk Talk at the Combine" Seminar February 25 in Indianapolis.