January 29, 2014 -
Dave Miller
Five classes that could improve before Signing Day
Subscribe to the "Against the Grain with Dave Miller" podcast in iTunes
With National Signing Day just one week away, the focus of the National Football Post's college football coverage remains centered on recruiting.
Below is a list of some schools that could be primed to crack a lot of Top 10 or Top 25 team rankings by the end of Signing Day if they are able to close the deal on a few uncommitted prospects.
Louisville: There's no question that the Cardinals were put in a tough position when Charlie Strong left to assume head-coaching duties at Texas. The program lost commitments from wide receivers Isaiah Ford and George Rushing, defensive linemen Poona Ford and Chris Nelson as well as offensive lineman Lukayus McNeil. Since none of those players have pledged to other schools, though, new head coach Bobby Petrino (returning for another stint as the face of the program) can get those players to recommit. But even if he can't get all five to sign their National Letters of Intent, Petrino still has a chance to salvage a good class. The school has been in the mix for some players that were thought to be out of reach, including Mississippi's Grant Harris, an intriguing defensive end, as well as some defenders who were recruited by new Cards defensive coordinator Todd Grantham when he was with the Bulldogs. Georgia and Florida are two states that Petrino is trying to mine as Signing Day approaches.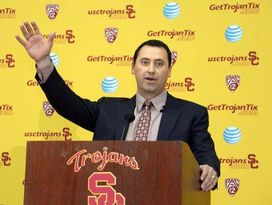 New head coach Steve Sarkisian has brought stability to USC recruiting.
USC: There is a lot of buzz right now about the Trojans' recruiting under new head coach Steve Sarkisian and his staff since he arrived from Seattle. While we don't yet know if Sark is a championship-level head coach, the fact is that he and his staff have been able to hit the ground running since arriving in L.A. and have re-established 'SC as a top destination. And that's huge with the emergence of UCLA under Jim L. Mora. Top Class of 2015 quarterback Ricky Town decommitted from Alabama over the weekend and said he intends to go to 'SC, so the future appears bright. In terms of this class, guards Viane Talamaivao and Toa Lobendahn as well as tackle Jordan Austin are real nice pieces for the future offensive line, and end Don Hill could emerge as a rotational piece early in his career along the defensive line. Ends Olajuwon Tucker and Malik Dorton are also nice "gets" along the D-Line. Former Washington pledge Jonathan Lockett should have a bright future at cornerback, and Uchenna Nwosu could blossom at outside linebacker. The big question is how well Sarkisian can close in the final moments leading up to NSD. Top uncommitted cornerback Adoree' Jackson would step in right away from Day 1 and produce, as well as athletes JuJu Smith and Michiah Quick, who should slot in at wide receiver. Fighting off UCLA and other top programs will be the tough chore in the final days.
Texas: The Longhorns will unquestionably be able to continue to bring in and develop top players, especially on the defensive side of the ball, under new head coach Charlie Strong. But how deep and talented is the 2014 class? The Longhorns' haul this cycle is led by defensive end Derick Roberson and defensive backs Edwin Freeman and Jermaine Roberts. But while Strong's defensive background will result in top-tier talent coming aboard in future years, the program suffered decommitments along the defensive line during the coaching search. In-state defensive end Solomon Thomas and former Louisville commit Poona Ford would be ideal additions, and safety Steven Parker II is also in the mix. However, he could choose Oklahoma. The offense, which struggled with identity issues the last few seasons of Mack Brown's tenure, will be boosted by dual-threat quarterback Jerrod Heard, running back Duke Catalon and wide receiver Armanti Foreman.
Nebraska: Despite all of the bad mojo surrounding head coach Bo Pelini, who has made a habit out of recording four-loss seasons in Lincoln, the Cornhuskers are compiling a nice 2014 haul. Offensive line help is expected to be on the way in the form of Under Armour All-America guard Tanner Farmer and fellow guard D.J. Foster. And the defensive line will get boosted by JUCO end Joe Keels. The Huskers have been in play for Cincinnati commit Spencer Williams, a defensive end, as well as a few players that have been Louisville commits. Two intriguing current Husker commits are Larenzo Stewart, a burner who could excel in the return game, as well as former Vanderbilt commit Mikale Wilbon, a fellow running back.
Penn State: James Franklin (and his staff with strong East Coast ties) is the worst thing that could have happened to Maryland's Randy Edsall and Kyle Flood of Rutgers, as the respective head coaches will have to deal with Penn State both on the field and as a top competitor on the recruiting trail in the Mid-Atlantic region as the schools enter the Big Ten. The Nittany Lions have really made huge strides in this cycle since Franklin arrived from Vanderbilt, bringing aboard several new verbal commitments, including a nice core that had previously pledged to Vandy. With a centerpiece player in place in quarterback Christian Hackenberg, who passed for almost 3,000 yards and 20 touchdowns as a true freshman in 2013, and the departure of Allen Robinson, top receivers are going to have a chance to step in right away and produce. The Nittany Lions have a trio of wideouts in De'Andre Thompkins, Saeed Blacknall and Chris Godwin that will be the envy of schools come Signing Day. Running back Johnathan Thomas is also a very good offensive piece added to the puzzle. Another area of emphasis was the secondary, which is slated to add cornerback Daquan Worley and safety Marcus Allen. While there aren't a lot of spots left, PSU is making a strong play for offensive linemen Damian Prince and Georgia commit Isaiah Wynn. Prince is a Maryland product whose favorite has reportedly been the Terps. But never count out Franklin closing strong.
Note: </strong>Also keep an eye on UCLA, which is expected to get official visits this weekend from wide receiver Malachi Dupre and cornerback Marlon Humphrey. Those are two of the best uncommitted prospects in the country.
Dave Miller, the college football editor and writer for the National Football Post, is on Twitter @Miller_Dave.