January 30, 2012 -
Dave Miller
Five classes worth watching as Signing Day nears
With National Signing Day coming up on Wednesday, let's take a look at five programs that could be primed to take a step up in the NFP's 2012 class rankings with a strong finish before uncommitted recruits sign their Letters of Intent.
Florida: Will Muschamp is looking to make a strong late run to improve on an already good class after his six-loss debut campaign in Gainesville. Running back Matt Jones and tight end Kent Taylor highlight the offensive side of the ball, and they should add firepower to an offense that has struggled to move the football the last couple of seasons. And offensive linemen D.J. Humphries (tackle) and Jessamen Dunker (guard) add strong depth to a position of great need. Defensive end Jonathan Bullard and safety Brian Poole, meanwhile, are the team's best incoming defenders. But this class could become even stronger if Muschamp can land either 6-1, 185-pounder Nelson Agholor or 6-0, 185-pounder Stefon Diggs at receiver. The Gators can use as much infusion of playmaking ability as possible. Agholor's finalists also include Florida State, Oklahoma and Notre Dame, but I think he stays in-state as a Gator. Diggs, though, is coming off of a great visit to Auburn. The other player who the Gators are in play for is defensive back Tracy Howard, who held his own against top Class of 2012 receiver Dorial Green-Beckham in the U.S. Army All-American Bowl. Florida State and Miami are also hot on his trail, and he had a great visit with Al Golden and the Hurricanes recently.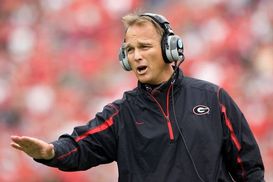 ICONMark Richt is hoping to add even more talent to the strong Bulldogs defense.
Georgia: The Bulldogs needed to address the offensive line during this cycle, as three new starters will be protecting quarterback Aaron Murray in the fall. John Theus (tackle) and Greg Pyke (tackle) are committed, and junior-college transfer Mark Beard (guard) has already enrolled. Theus is considered by some to be the best tackle in the country. Fellow tackle Avery Young, meanwhile, remains a possibility for the Dawgs as well. However, he recently had a great visit with Miami. Keith Marshall, one of the top running backs in the nation, will also give the team another backfield option to go along with last year's gem Isaiah Crowell. But defense is where Georgia really could make its mark as Signing Day nears. Coordinator Todd Grantham would love to bring more linebackers into the fray, especially because his 3-4 is built around that unit. Outside linebacker Josh Harvey-Clemons is considered a heavy favorite to land in Athens and is arguably the best player in the state of Georgia. He'd be ideal in Grantham's scheme, and head coach Mark Richt is looking for a strong close after the squad lost five commitments in this class for various reasons. Top outside linebacker Jordan Jenkins is already in the fold after choosing Georgia over Alabama and Florida.
Cal: Jeff Tedford and the Golden Bears had enjoyed a huge surge due to receiving commitments from three top recruits at the U.S. Army All-American Bowl: receiver Jordan Payton, defensive lineman Ellis McCarthy and safety Shaq Thompson. But Tedford has since lost McCarthy to UCLA, and he could lose Payton and Thompson because of the departure of top recruiter Tosh Lupoi to Steve Sarkisian's staff at Washington. Lineman Freddie Tagaloa and quarterback Zach Kline lead an offensive haul that also features receivers Darius Powe and Bryce Treggs, so the Bears are solid on that side of the ball. But Payton's signature would be huge, and he'd give quarterback Zach Maynard another weapon immediately. And Thompson's commitment is crucial because the Bears have a big need at safety. Pairing him with incoming safety Damariay Drew would be a big coup for Tedford, and it will help the Bears put the brakes on all of the talk that Lupoi's departure was a death blow, particularly in 2012.
Auburn: Head coach Gene Chizik has done a wonderful job since arriving in town of making a late run on the recruiting trail and making a splash on Signing Day. The Tigers recently lost stud running back T.J. Yeldon to in-state rival Alabama, so they would love to do the same to the Tide or another major program over the next couple of days. Quarterback Zeke Pike headlines the current haul, and tight end Ricky Parks will be a nice offensive weapon coming into the program with the talented signal-caller. But receiver Ricardo Louis just decommitted from Florida State days after doing the same thing to Auburn. However, he had been an Auburn commit for almost a year and could land with the Tigers still as a defensive back or develop as a receiver. The aforementioned Avery Young (tackle) is also still considering the Tigers as well as the following Top 20 uncommitted players: outside linebacker Kwon Alexander, defensive tackles Eddie Goldman and Leonard Williams, cornerback Ronald Darby and offensive lineman Jordan Diamond. There is plenty of room for the Tigers to move up in the team rankings if they could land one or two of these talents.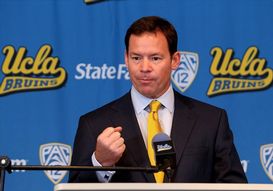 ICONJim L. Mora and his staff have quickly implemented a strong game plan on the recruiting trail.
UCLA: Jim L. Mora and his staff have done a wonderful job of hitting the recruiting trail hard since taking over for the fired Rick Neuheisel. The first-year head coach picked up a big commitment when Ellis McCarthy elected not to go to Cal, and the late splash could continue behind the recruiting prowess of offensive line coach Adrian Klemm and former Washington cornerbacks coach Demetrice Martin. The Bruins picked up one of the top dual-threat quarterbacks in the nation Sunday, adding Devin Fuller to the competition at a position that also includes Class of 2011 gem Brett Hundley. Fellow signal-caller T.J. Millweard had already committed to the class recently. Receivers Bryce Treggs and Jordan Payton still remain in the mix, as well as stud safety Shaq Thompson and defensive tackle Aziz Shittu. The entire staff certainly will remain very busy in Westwood as Signing Day nears.
Also keep an eye on: Miami
The Hurricanes could end up having one of the biggest classes in the country, with 31 players already committed to Coral Gables. Eight recruits have already enrolled in school. While the Canes could lose a couple of commits on Signing Day, Golden and Co. are still in the mix for three stud defenders: tackle Eddie Goldman, defensive back Tracy Howard and end Darius Hamilton.
Email dave.miller@nationalfootballpost.com or follow me on Twitter at Miller_Dave