October 15, 2014 -
Dave Miller
Five keys to a Notre Dame victory over FSU
The 2014 college football season continues to heat up, as Saturday will mark the second straight week that two undefeated teams in the Top 5 of the AP poll will meet when Notre Dame travels to Tallahassee to battle defending national champion Florida State.
Do the Fighting Irish have a chance to knock off the Seminoles? Let's take a look at five reasons why Brian Kelly's squad can pull off the road upset.
1. Golson plays a clean game: Notre Dame quarterback Everett Golson is clearly a more polished and mechanically sound passer after missing the 2013 season due to suspension. But protecting the football has been a major issue in the last few games for the dual-threat. The Fighting Irish signal-caller has nine turnovers in his last three contests after committing none in his first three games. And his three giveaways last week turned into touchdowns for North Carolina in ND's too-close-for-comfort home win. Golson absolutely must play error-free on Saturday at Florida State, which had two red-zone interceptions last week against Syracuse, or else the Irish may not be able to hang with the 'Noles for four quarters even with Jimbo Fisher's squad not resembling its dominant 2013 squad. The good news for the Irish is that FSU has had its hands full with dual-threat QBs this season, with Clemson's Deshaun Watson and NC State's Jacoby Brissett finding success. Golson, who has rushed for 209 yards, is dangerous when on the move — as long as he holds onto the football, of course.
2. A plethora of playmakers: The loss of DaVaris Daniels, who averaged 15.2 yards per catch and had seven touchdowns last season, has not at all hampered the Irish offense because they have a deep receiving corps led by breakout star Will Fuller. Fuller has at least one touchdown catch in every game, with the exception of the contest against Stanford, and has over 500 receiving yards and seven scores this fall. Corey Robinson and Chris Brown both have at least 16 catches, while Amir Carlisle, C.J. Prosise and Torii Hunter Jr. have each found the end zone. On the ground, Tarean Folston paced an ND rushing attack against the Tar Heels that had been lagging before the team shuffled its O-Line and moved bigger bodies inside. Add in Golson's threat to run, and FSU freshmen defensive ends Lorenzo Featherston and Jacob Pugh will need to stay disciplined.
3. There's nothing to lose: The Irish know they have long been counted out of this game by the college football world throughout the offseason and even for most of this season because of the perceived talent gap between the two squads and the fact that they are entering tough road terrain. But Kelly and Co. also probably don't mind playing the role of the underdog this week after being labeled as 24-point underdogs when the initial Las Vegas betting lines came out in the offseason. Because they have heard all of the talk about the likelihood of FSU running the table, the Irish would love nothing better than to play the spoiler role and set themselves up for their own run toward a possible College Football Playoff berth.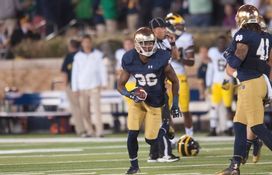 Cole Luke has stepped up his play in the absence of KeiVarae Russell.
4. No Russell, no problem: When it was announced that cornerback KeiVarae Russell would have to sit out while ND's academic fraud investigation continued, it looked like the secondary would be a weakness for the team. But Cole Luke has played very well in his place, as the sophomore has three interceptions in his last two games and along with fifth-year Florida transfer Cody Riggs is one of the key's to stopping the FSU passing attack. Former five-star safety Max Redfield also is a key component of a unit that ranks No. 8 in scoring defense under first-year coordinator Brian Van Gorder. But Redfield needs to remain on the field for the 'D' to continue to be effective. The aggressive sophomore was ejected from the game against Purdue because of targeting, and he was previously called for a personal foul in the shutout win over Michigan. Florida State wide receiver Rashad Greene has been as consistent as any 'Noles player this fall, but he's really been the only top option in their passing game. Without his strong play, there's a good chance that FSU could have slipped up against either Oklahoma State, Clemson or NC State. The ND secondary has played much better than expected, which is bad news for the 'Noles.
5. Winston's availability: The ultimate wild card is defending Heisman Trophy winner Jameis Winston, who is the subject of the school's athletic compliance department's investigation as to how a large number of his autographs were authenticated by one company. Winston reportedly told Fisher that he did not take money for his autographs, although an authentication business that's been linked to suspended Georgia running back Todd Gurley has also been linked to Winston. There is also the matter of Winston's disciplinary hearing to determine whether he violated the school's conduct code in an alleged sexual assault in December 2012. He could be charged with violating as many as four policies. As of now, Winston is scheduled to start the game against the Irish. But the turmoil he's dealing with could seemingly take a turn for the worse at any point. The 'Noles have been able to deal with a lot of noise all season, but will they break at some point? And could the Irish see Sean Maguire and not Winston under center? They may want to hope so because the FSU signal-caller was 30-of-36 passing for 317 yards and three touchdowns last week against Syracuse.
Dave Miller, the college football editor for the National Football Post, is on Twitter @Miller_Dave