January 07, 2013 -
Dave Miller
Five players on the spot in the BCS title game
The final college football game of the 2012-13 postseason takes place Monday night at Sun Life Stadium, as top-ranked Notre Dame and No. 2 Alabama square off for the crystal football.
Let's take a look at five players who will be on the spot during the BCS national championship game between the Fighting Irish and the Crimson Tide.
Notre Dame QB Everett Golson: It's no secret that this is Golson's biggest test yet. The dual-threat signal-caller has been through his share of growing pains in 2012, being lifted for backup Tommy Rees early in the season and even later in the campaign when he struggled against Pitt. But the redshirt sophomore has thrown just two interceptions against eight touchdowns in his last seven games, and he has the traits needed to be successful against a defense as strong as Alabama. He has the ability to escape pressure, extend plays and pick up first downs with his feet. Head coach Brian Kelly and offensive coordinator Chuck Martin will look to get Golson comfortable early, possibly with safe passes on first down. As good as this offense has been running the football, the Irish may not be able to beat the Tide running on traditional downs. But if the Irish keep Nick Saban and Co. guessing by throwing on traditional run downs, it may prompt a safety to drop back and out of the box. This would then give Golson an opportunity to use his legs and take advantage of one less defender being up front.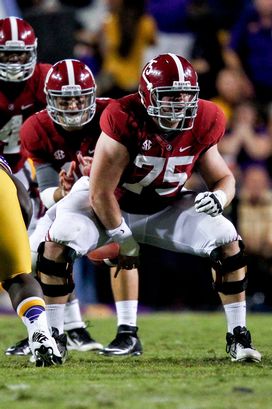 US PRESSWIREBarrett Jones is dealing with a left foot injury heading into the BCS title game.
Alabama C Barrett Jones: The decorated Jones, an All-American who has been an Outland Trophy and Rimington Award winner, will not be 100 percent because of a left foot injury but will start. He will be matched up against Fighting Irish nose guard Louis Nix III. Nix is a very active and strong player who excels at getting into the opponents' backfield despite often being occupied by two linemen. The run-stuffer also does a good job of keeping offensive linemen off of Heisman Trophy finalist Manti Te'o. Despite being mammoth, he is agile and will prove to be a real chore for Jones to contain. Jones did a great job, especially in the second half, in the SEC title game against Georgia's John Jenkins as the Tide ran the ball almost exclusively after halftime in the comeback win. However, as mentioned, he won't be 100 percent. So he will need to rely on the help of future first-round pick Chance Womack and Anthony Steen on a good number of plays.
Notre Dame TE Tyler Eifert: Eifert, who won the Mackey Award as the nation's top tight end, caught 44 passes for 624 yards and 4 touchdowns this season. When the Irish split Eifert out as a receiver, he is nearly unstoppable because he is a nightmare for smaller cornerbacks and safeties as well as slower linebackers. But he has not been a top target throughout the season because of the Irish's run-first mentality as well as growing pains in the passing game. But expect him to be a big part of the game plan Monday night, as he will be a top option if the 6-6, 250-pounder can find his way into seams. And as Golson has become more comfortable throwing the football, he has looked Eifert's way more often. The tight end's numbers started to rise in the final month of the season, and that's good news for the Irish.
Alabama QB AJ McCarron: In last year's BCS national championship game, McCarron had his coming-out party when most everyone in the country expected the Tide to remain run-heavy. Alabama threw the ball on virtually every first-down play, throwing off the LSU defense and keeping it on its heels. Will first-year coordinator Doug Nussmeier take a similar path this year against Notre Dame? Not likely. But it also isn't likely that we see the Tide's second-half offense against Georgia, either. In the SEC title game, it was the Eddie Lacy and T.J. Yeldon show after the break, as Alabama relied on a punishing run game despite falling behind by two scores. The Tide finished with 350 yards on the ground, which was an SEC championship game record. Expect 'Bama to be balanced offensively Monday night. But which version of McCarron will show up? The one who looked like a Heisman Trophy contender heading into the LSU game this year, or the one who threw bad interceptions around the goal line against Texas A&M and Georgia?
Notre Dame CB KeiVarae Russell: If there was a weak spot coming into the 2012 season on the Notre Dame defense, it was the secondary because of depth concerns. And the defensive backfield took even more hits when the Irish lost starting cornerback Lo Wood before the season and starting strong safety Jamoris Slaughter in mid-September. That left the Irish with three first-year starters in the secondary, and all of them are converted offensive players. But the Irish have been able to manage to win despite the inexperience in the defensive backfield because coordinator Bob Diaco has been able to rely on his safeties staying back and helping out his cornerbacks. The concern for the Irish is whether or not they will be able to do that against the Tide. If Alabama is successful running the football against a seven-man front, the Irish will have to bring up a safety into the box. And that's when Alabama may take its shots down the field with freshman receiver Amari Cooper, who has nine touchdowns and averages 16.7 yards per catch, as well as the returning Kenny Bell, who can also go long. Irish cornerback Bennett Jackson played fairly well against USC's Marqise Lee, but Russell struggled a bit when matched up against the Trojan. Look for Saban and defensive coordinator Kirby Smart to do their best to expose Russell. Keeping a safety back to help out the corners has been huge for the ND defense, but the Alabama run game may prevent that on Monday night. Shutting down Cooper will be key, but it will be awfully difficult to do in one-on-one coverage if safeties Zeke Matta and Matthias Farley are in the box supporting the run.