September 21, 2013 -
Dave Miller
Five players on the spot in Week 4
Let's take a look at some players that will be vital to the success of their teams on Saturday.
Auburn QB Nick Marshall: Perception is reality often in college football, so the fact that Gus Malzahn has his team believing that it can beat LSU in Death Valley carries some weight. After its emotional last-second win over Mississippi State last week, which was its first SEC win in nearly two years, Auburn will try to steal a road win in Baton Rouge. But if the team from The Plains has any chance at all, Marshall will need to play as well in a full game as he did in the clutch last-minute, game-winning drive against the Bulldogs. Auburn will have its hands full trying to stop the LSU rushing attack as well as the newfound aerial game led by Zach Mettenberger, who leads the SEC in passing efficiency and has thrown nine touchdowns and no interceptions through the first three games. But Malzahn's squad will have no chance to win if Marshall doesn't play his best.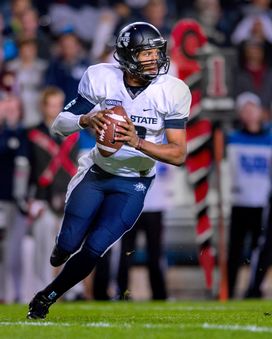 US PRESSWIREChuckie Keeton and the Aggies will try to steal a win at the Coliseum.
Utah State QB Chuckie Keeton: The Aggies have perhaps the most overlooked dual-threat quarterback in the country in Keeton, who leads the No. 8 scoring offense in the nation at 49.3 points per game. The junior leads his team into the Coliseum, where Washington State was able to score a victory a few weeks ago. USC linebacker Morgan Breslin, who had 13 sacks and 19.5 tackles for loss last season, leads a Trojans defense that is playing very well under new coordinator Clancy Pendergast. With lineman George Uko, Breslin and safety Dion Bailey, 'SC has NFL talent at all three levels of the defense. But Keeton, who has thrown 12 touchdowns and only one interception, is accurate and very good at creating plays with his feet. The Trojans need to be on upset alert.
West Virginia QB Ford Childress: The son of a former NFL Pro Bowler, Childress excelled in his debut last week and now faces a stiff test against Maryland in Baltimore. The redshirt freshman passed for 359 yards and three touchdowns against one interception to give the Mountaineers' offense a boost last week against Georgia State. But the Terps will pose a much more difficult challenge for Childress, who has seemingly taken ownership of this Dana Holgorsen offense. However, Childress should have an opportunity to take advantage of the Terps being down starting cornerbacks Jeremiah Johnson and Dexter McDougle. Reserves Isaac Goins and Will Likely should get the start for the Terps, so expect Holgorsen to test the new starters.
Stanford QB Kevin Hogan and Arizona State QB Taylor Kelly: Both of these dual-threat signal-callers will be on the spot when the Cardinal and the Sun Devils meet in a key Pac-12 clash. Hogan will face a stout Sun Devils front seven, led by tackle Will Sutton. Sutton has been quiet thus far this season, so we'll see how he fares against a very good Stanford offensive line. Kelly, meanwhile, struggled with his accuracy last week in the team's win over Wisconsin. He will face the stiffest defensive test yet, and it continues a stretch of tough games for ASU.
The Texas defense: Simply put, the Longhorns need to stop the bleeding for head coach Mack Brown. We saw what BYU and Ole Miss were able to do on the ground against the 'Horns, so expect K-State to try to do the same in Austin until the 'Horns prove that they can stop the run. If the Wildcats are successful, they will have a chance to extend their winning streak over the 'Horns to six games. But if Greg Robinson's crew can play up to their talent level, perhaps Texas can start to salvage its 2013 season.
Dave Miller, the college football editor and writer for the National Football Post, is on Twitter @Miller_Dave.