December 02, 2014 -
Dave Miller
Five possible replacements for Hoke at Michigan
Brady Hoke was dismissed as Michigan's head coach following a Tuesday meeting with interim athletic director Jim Hackett.
A news conference is set for 4:30 p.m. ET.
In four seasons in Ann Arbor, Hoke went 31-20 overall, including a combined 2-6 against Michigan State and Ohio State. Despite an 11-2 debut campaign, Hoke's win totals dropped every season with the Wolverines, and the team did not qualify for the postseason in 2014 for just the third time since 1975.
According to ESPN's Darren Rovell, Michigan will pay Hoke a $3 million buyout over the next 25 months as well as $1.95 million in deferred compensation within the next 30 days.
So where do Hackett and senior assistant AD Mike DeBord go from here? Let's take a look at the names that could be in play for the new opening in Ann Arbor.
Jim Harbaugh: The San Francisco 49ers head coach is the No. 1 target in Ann Arbor. The former Wolverines quarterback is in the Bo Schembechler mold, and both NFL and college football insiders believe that he is finishing out his final season in San Francisco. But is he willing to leave the NFL? Most people I talk to believe he has unfinished business at the pro level and that he wants to hold off on a possible return to the college game. But if there is a college job to take, most feel it would be for the one in Ann Arbor.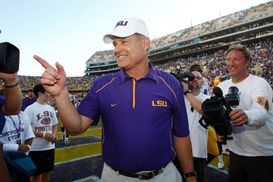 ICONWould Les Miles entertain the idea of leaving LSU?
Les Miles: The former Wolverines offensive lineman played for Schembechler and was an assistant in Ann Arbor on two separate occasions. He could have one last chance to take the head gig for the Wolverines, and some people I've talked to in the past believe that Miles would strongly consider finishing his career with Michigan if the timing is right. But would he leave all of that talent behind now in Baton Rouge and bolt from the SEC? There is a sense that Hackett would love to pursue Miles, but is the entire administration behind the idea?
Greg Schiano: The former Rutgers head coach has turned down the job before, but he'd still fit in well at the school because of the team's desired style of play and his understanding of the school's strong academic values. But there are rumblings that Nebraska is also after him, so the Wolverines will have to act fast if he's a top target.
Al Golden: The former Temple program-builder has been through three athletic directors at Miami (FL), and a lot of Hurricane alumni, former players and fans haven't exactly been thrilled with his tenure. However, Golden has not forgotten how to coach football. He inherited a difficult situation in Coral Gables that needed time to fix. And while the Hurricanes endured a disappointing 2014 season, 'Cane fans should be hopeful that he returns. He absolutely fits the clean-cut, academics-first vision Michigan desires, though.
Mike Gundy: The Oklahoma State head coach is technically an extension of the Schembechler tree, as he was a former assistant of Les Miles in Stillwater before taking over the head gig with the Pokes. There's no question that Gundy does not have a great relationship with the Cowboys' top brass, and he has had wandering eyes for the last few years.
The other big one to keep an eye on: It's tough to get a read on whether Dan Mullen would be a serious candidate for this opening. Some college football insiders feel that the Mississippi State head coach may have hit his ceiling with the Bulldogs, as he has a veteran squad this season that was once ranked No. 1 in the country. His offensive mind should be craved by the Michigan administration, but would he leave the SEC?
Dave Miller, the college football editor for the National Football Post, is on Twitter @Miller_Dave.