February 06, 2012 -
Dave Miller
Five underrated classes
Last week at the NFP I discussed some of the Winners and Losers of National Signing Day.
Today, let's take a look at some of the programs that have brought in underrated hauls -- the teams that were overshadowed by some of the major programs that landed top talent.
Virginia:
Iowa: The Hawkeyes very rarely get praised for their classes because Kirk Ferentz and Co. are so good at developing players who aren't top-star recruits. But in running back Greg Garmon and defensive tackle/end Faith Ekatitie, the Hawks get two players who may see the field early in Iowa City. Running back is a position of serious concern with the departures of Marcus Coker and Mika'il McCall, but this program is used to developing young backs. Garmon could be the next in line in that area, so he may end up being the most important recruit this February. Late addition George Kittle, a wide receiver whose father played offensive line at Iowa, was one of three receivers brought in, and four defensive linemen were also added to help depth concerns.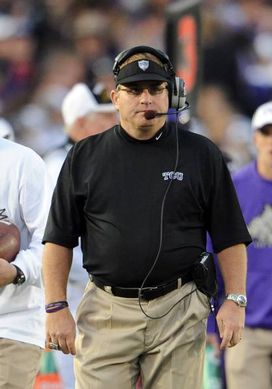 ICONGary Patterson and the Horned Frogs are bringing a solid batch of new recruits to the Big 12.
TCU: Gary Patterson was able to snag a very impressive class as the Horned Frogs are preparing for life in a BCS conference (Big 12). Tight end Griffin Gilbert is very good, but the defenders in this class are the most significant. The Horned Frogs' top two commits are defensive linemen, which fills a great need. End Devonte Fields and tackle Joey Hunt are Top 25 players nationally at their position, and both are from Texas -- keeping players in-state will keep this program competitive in the tough Big 12. End James McFarland and Terell Lathan will add depth to the D-Line, and the state of Kansas' top quarterback recruit, Tyler Matthews, was one of two signal-callers brought in.
Tennessee: Derek Dooley has been getting slammed in Knoxville due to an offseason filled with upheaval on the coaching staff, but the third-year Volunteers head coach once again assembled a solid core of recruits. Dooley wanted to add playmakers on offense, and signing top junior college receiver Cordarrelle Patterson on National Signing Day was a great way to round out the class. Justin Hunter will be 100 percent healthy next season, Da'Rick Rogers will return as well, and Drae Bowles of Jackson, Tenn., and Alton Howard of Orlando, Fla., add some serious depth to the Vols' WR corps. Quarterback Tyler Bray will certainly have plenty of weapons to work with in the fall, but we'll see if not being able to land a standout running back in this class will hurt the offense. I'm not sure if Alden Hill or Quenshaun Watson will be able to help the ground attack in 2012.
Cincinnati: Rutgers has been lauded for being able to bring in one of its best classes in school history, Louisville's Charlie Strong has shown he can get elite talent (Miami LB commitment Keith Brown) and West Virginia's Dana Holgorsen went into Florida and scooped up 12 players from the Sunshine State. But Butch Jones and the Bearcats signed a huge class, led by underrated quarterbacks Bennie Coney and Trenton Norvell, to rebound from losing their top recruit, running back Dennis Norfleet, to Michigan. But the biggest move made by Jones was signing eight defensive backs to help a secondary that needed serious help. Cincinnati will be veteran-laden in the defensive backfield for 2012, so an infuse of talent was needed there for 2013 and beyond. Getting help at linebacker was also important, and this can arguably be considered the best class in school history.
Email dave.miller@nationalfootballpost.com or follow me on Twitter at Miller_Dave