February 08, 2013 -
Dave Miller
Five under-the-radar 2013 recruiting classes
Follow @Miller_Dave <script>!function(d,s,id){var js,fjs=d.getElementsByTagName(s)[0];if(!d.getElementById(id)){js=d.createElement(s);js.id=id;js.src="//platform.twitter.com/widgets.js";fjs.parentNode.insertBefore(js,fjs);}}(document,"script","twitter-wjs");
With National Signing Day in the rearview mirror, the eyes of the college football world now turn to spring ball.
But before we turn the page completely on high school recruiting, let's take a look back at NSD this past Wednesday and glance at some under-the-radar recruiting hauls.
While these schools did not make the final National Football Post Top 25 team recruiting rankings, they still were able to bring in quality talent that may end up developing quite well and help the program ascend their conference standings.
Note: I didn't include Arkansas and Kentucky on this list because the Hogs and the Wildcats have been recognized the last few days for their very good hauls. Tremendous jobs by new head coaches Bret Bielema and Mark Stoops, respectively.
Stanford: David Shaw and his staff only signed 12 players this cycle, so it's one of the smallest hauls in the country. But bigger doesn't mean better for the Cardinal this year. They keyed in on two positions that are vital to their operation: tight end and linebacker. Eric Cotton Jr. and Greg Taboada are hopeful that they will be on the receiving end of many passes from quarterback Ryan Burns, who is arguably a Top 5 pocket passer nationally. Francis Owusu is also coming to Palo Alto to add depth at wide receiver. Defensively, outside linebackers Peter Kalambayi and Sean Barton will be counted on as their careers progress to help keep the Cardinal 3-4 defense effective. And defensive end Austin Hooper has a high motor. Meanwhile, two more offensive linemen, David Bright and Thomas Oser, are being brought in to add to last year's stellar group.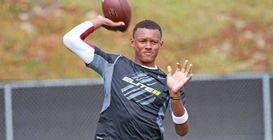 QB Josh Dobbs flipped from Arizona State to Tennessee on National Signing Day.
Tennessee: Many Volunteer fans were disappointed that safety Vonn Bell chose to head to Ohio State and not Knoxville, but new head coach Butch Jones still closed pretty well. Wide receiver Marquez North was a nice snag late along with fellow receiver Ryan Jenkins. The Vols filled a big need, and the staff is hopeful that quarterbacks Riley Ferguson and Josh Dobbs, who flipped from Arizona State, will develop in time. Defensively, the Vols are bringing in pass-rushing linebacker Corey Vereen and end Jaylen Miller. Offensive tackle Austin Sanders was also a nice addition. A solid job by Jones in a tough situation.
Maryland: Randy Edsall and his staff did a great job last year of keeping receiver/returner Stefon Diggs in-state and getting immediate production from him, and they will need to continue to get the best local recruits each year if the Terps want to be a consistent postseason fixture. Edsall did a good job for the most part of keeping the top local talent this year, as Washington D.C.'s Deon Long and Derwin Gray are on board. Long was a star at Iowa Western Community College in 2012 and will step in at receiver, while Gray could help immediately on the offensive line, perhaps at tackle. Getting impact defenders was a huge priority this cycle, and cornerback Will Likely III could get a look at nickelback early. Meanwhile, outside linebackers Derrick Hayward, Jalen Brooks and Jermaine Carter will bring much-needed depth. Baltimore dual-threat quarterback Shane Cockerille, meanwhile, is an intriguing "get." He doesn't have great mechanics but has very good intangibles.
Indiana: Kevin Wilson had a fantastic first full recruiting cycle, as the Hoosiers are bringing in one of the program's most talented hauls in memory. Georgia native Rashard Fant bypassed SEC offers and is the Hoosiers' gem of the class. He's an athlete who can play receiver but who may project best as a cornerback. Meanwhile, Wilson was able to get defensive tackle Darius Latham to flip from Wisconsin and defensive end David Kenney III to flip from Iowa. Army All-American safety Antonio Allen and linebacker Kristopher Smith are also in the fold and should develop into solid defenders. Wilson and his staff understand that going outside of the state is huge, and they have been able to do that this cycle. Two JUCO defensive tackles and a JUCO linebacker also are being brought in, and the Hoosiers need all the help they can get defensively.
TCU: Gary Patterson and his staff put together a stellar class this cycle. The Horned Frogs played a lot of underclassmen last season, so good experience returns. But incoming freshmen Paul Whitmill, Dac Shaw and Sammy Douglas could be in the mix at linebacker with Kenny Cain gone. And with Matthew Tucker no longer in the mix at running back, Kyle Hicks, Devonte Fields, Jaden Oberkrom and Trevorris Johnson provide depth in the backfield. Hicks and Johnson were two of the state of Texas' Top 10 running back recruits. Meanwhile, dual-threat Zach Allen is an intriguing quarterback talent. Overall, seventeen of the team's commitments are from the state of Texas.