September 29, 2010 -
Dave Miller
Florida hopes to avoid being grounded at Alabama
College football fans don't have to wait until this year's SEC championship game to see if Florida could stop the prolific rushing attack of defending national champion Alabama.
The Gators will get their opportunity Saturday night at Bryant-Denny Stadium in Tuscaloosa, Ala.
As the SEC was saying goodbye to Tim Tebow in Atlanta last December, Gators fans likely were in disbelief after watching their team give up 251 rushing yards on 53 carries to the Crimson Tide in the 32-13 loss. The Tide averaged almost 5 yards per rush, with eventual Heisman Trophy-winner Mark Ingram rushing 28 times for 113 yards and three touchdowns, Trent Richardson adding 80 yards on 11 carries and third-stinger Roy Upchurch finishing with 57 yards on just eight touches.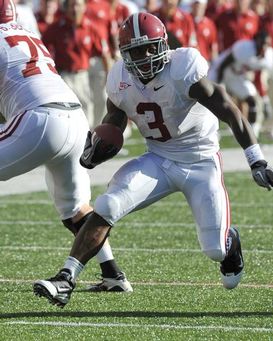 ICONTrent Richardson and Alabama ran all over the Gators in last year's SEC championship game.
Combined, Alabama's three running backs lost just 2 yards on their 46 carries. The Gators simply were outmuscled — specifically right up the middle, between the tackles.
So it's no wonder that the entire offseason was dedicated to erasing the memory of that painful night at the Georgia Dome.
In spring practice, new defensive coordinator Teryl Austin and defensive line coach Dan McCarney installed the "Heavy Package" — a 5-2 defensive scheme that uses an extra defensive lineman to stack the line of scrimmage. Call it a sort of 'Bama-proofing.
Two weeks ago at Tennessee, the scheme helped hold Tauren Poole to 23 yards on 10 carries. While Poole entered the game as the league's leading rusher, he isn't in the same class as the dynamic Crimson Tide duo. And he certainly doesn't possess the incredible ability of Ingram to break tackles.
Since returning from arthroscopic knee surgery and missing two games, Ingram has averaged 9.3 yards a carry against Duke and Arkansas — averaging 154 yards per game and scoring twice on the ground against the Blue Devils and Razorbacks. Looking as if he was never injured, Ingram is showing that he won't relinquish the Heisman without a fight.
Richardson, meanwhile, leads the Tide with 356 rushing yards and four scores and remains a threat in the passing game.
For the Gators, the problem with the 5-2 scheme is that it forces one of their speedy linebackers to the sideline, which could be a major problem when 'Bama's backs kick it to the outside. And when Tide quarterback Greg McElroy goes to the air — especially his deadly play-action.
Even if the Gators' run defense is stout and they wrap up on their tackles, how do you defend receivers Julio Jones, Darius Hanks and Marquis Maze?
And then there's that damn Wildcat that the Tide has employed effectively the last two campaigns.
Perhaps the "Heavy Package" isn't the tonic the Gators need to reclaim SEC supremacy after all.
But it's a start — and defending the run is the main concern for Austin's defense.
One issue the Gators don't have to worry about is quarterback John Brantley carrying the weight of the world on his shoulders. Despite Tebow's historic career in Gainesville, even he couldn't help Florida in last year's game.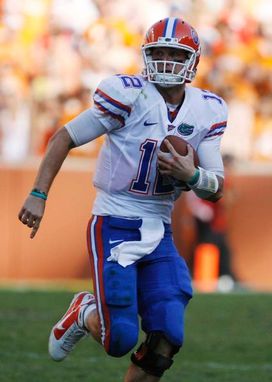 ICONJohn Brantley and the Florida offense may finally be clicking.
So, really, the first-year starter should play loose. After all, this isn't the same Alabama defense that gave Florida fits last season. However, this also isn't the same Gators offense that was so proficient before being clamped down by the Tide, either. Both units, though, may have grown up last week.
Even though 'Bama has nine different starters on defense, head coach Nick Saban's bunch still pressures from a variety of angles and the unit is so great at disguising its coverages, as well.
The 301 yards of total offense Arkansas tallied in the first half last week against Alabama? Blown assignments.
The Hogs not converting on any third down in the second half? The return to normalcy for Saban's defense.
The secondary, led by safeties Mark Barron and Robert Lester, collectively may be short on playing experience. But the group stepped up in a big way last week in Fayetteville.
On the flip side, Brantley and the Florida offense may have found an identity, as well, in last week's 48-14 win over Kentucky. The signal caller had his first 200-yard passing game, as he seemed to have better chemistry with his receivers.
And then there was the coming-out party for do-everything athlete Trey Burton — the second-coming of Tebow if you ask many in Gator Nation.
Is Burton key to Florida's success Saturday night?
It sounds absurd that a freshman who technically doesn't even start could have such an impact on a huge game. But after scoring five rushing touchdowns last week on the zone-read play Tebow made famous, in addition to catching a scoring pass, we'll see plenty of Burton the rest of the season and into the future.
Which crazier thing is more likely to happen: Burton burning 'Bama or the Gators being bowled over once again?
Follow me on Twitter at Miller_Dave or send your college football questions to dave.miller@nationalfootballpost.com
Click here to win cash today playing fantasy football with the NFP and FanDuel.