March 15, 2011 -
Dave Miller
Florida pre-spring notes
Will Muschamp released his first depth chart as the Florida head coach on Monday. And like most coaches at this time in the offseason, the former Texas Longhorns defensive coordinator said it's probably not "worth the paper it's printed on."
The Gators kick off spring practice on Wednesday, so fans and media at least received a glimpse into Muschamp's thought process with this initial chart. However, injured players were not taken into account, and movement is also bound to occur as players inevitably both impress and disappoint throughout the offseason.
A few notes from Monday:
— The depth chart, which Jason Lieser of The Palm Beach Post cleanly put together, does not include the following injured players:
Out: CB Janoris Jenkins, LB Neiron Ball, RB Mike Blakely, RB Jeff Demps
Limited: DT Omar Hunter, DT Jaye Howard, OLB Kedric Johnson, DB Jaylen Watkins, OL Matt Patchan, OL David Young, OL James Wilson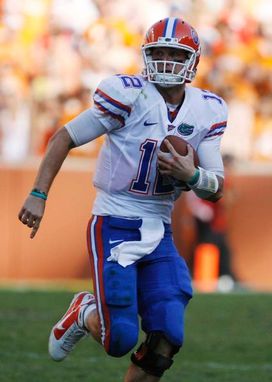 ICONJohn Brantley sits atop Will Muschamp's first depth chart at the QB position.
— John Brantley is listed as the first-string QB. At second-string, the depth chart reads "Tyler Murphy OR Jeff Driskel"
— Jordan Reed has permanently moved from quarterback to tight end, while Trey Burton is listed as a fullback and is expected to play in a few other spots on offense. With the arrival of early-enrollee Driskel — the top quarterback recruit in the Class of 2011 — as well as dual-threat Jacoby Brissett, the writing was on the wall for those two hybrid players.
"If you were to look at the depth chart, now the quarterback position actually was kind of light, and not that you're ever really looking, trying to bring in two guys in the same year of such high caliber as Jacoby and Jeff, but how could you pass on two guys that are that good?," new offensive coordinator Charlie Weis remarked to reporters on Monday. "They are both really good players."
— Gerald Christian is listed as the starting strongside linebacker after working on offense last season as a backup TE and FB. Muschamp did say he would assume those offensive roles, however, in some short-yardage situations.
— Josh Shaw has moved from CB to S.
Email dave.miller@nationalfootballpost.com or follow me on Twitter at Miller_Dave